Fall Guys is going free-to-play alongside its Switch and Xbox release in June
It will also be made available via the Epic Games Store next month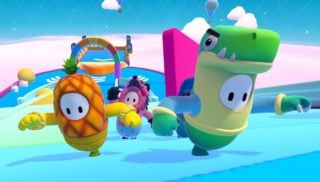 Fall Guys will be going free-to-play on June 21, when the game will be released for Nintendo Switch and Xbox consoles.
The title will also be released via the Epic Games Store on the same date.
The news was leaked via an in-game video in Fortnite shortly before its official announcement during a live stream on Monday.
Fall Guys Free for All Trailer
Fall Guys will support cross platform play and cross progression on all platforms.
Existing owners will receive a free Legacy Pack when the game goes free-to-play. It will include three costumes and access to Season 1's new premium season pass, which will run alongside a free season pass.
It was also announced on Monday that a new mode enabling players to create their own Fall Guys rounds is in development, although it's not planned for release in the near future.
Epic Games acquired Tonic Games Group, the parent company of Fall Guys developer Mediatonic, for an undisclosed sum last year.
Fall Guys was originally due to be released for Switch, Xbox One and Xbox Series X/S last summer, but it was delayed to give Mediatonic time to implement new features like cross-play.
The game originally released for Steam and PS4 in August 2020, with the console version available free for PlayStation Plus members that month.
It quickly became the most downloaded PS Plus title of all time and has sold over 11 million copies on PC, according to Mediatonic.