Steam players can now check which games in their library will run on Steam Deck
Valve has launched a new site allowing players to log in and get customised results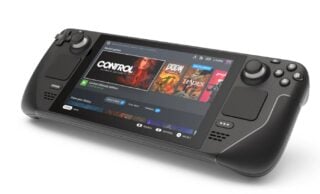 Valve has launched a new service allowing Steam users to see which games in their library will be supported on Steam Deck when the handheld is released.
Valve is in the process of reviewing the entire Steam catalogue, and is marking each game with one of four ratings designed to show how smooth the experience will be when playing that game on its upcoming handheld.
These ratings are designed to let Steam Deck owners easily tell which games are best suited for play on the Deck.
Now players can visit a new Steam Deck Compatibility page which lets them log into their Steam account and see which of their games have been tested so far.
Steam Deck - introducing Deck Verified
Not every game in the Steam library has been tested by Valve yet, but after users log in the page will display a list of which of their games have been officially marked as:
Verified – works perfectly on Steam Deck, players can just download and play
Playable – works on Steam Deck but may need some manual adjustment by the user (such as manually selecting a community controller config, using the touchscreen to navigate a launcher)
Unsupported – doesn't work on Steam Deck (all VR games are unsupported, for example)
Players can also click a game to view detailed compatibility details, meaning if a game is listed as Playable they can see exactly which functionality doesn't work perfectly and how it can be addressed.
For example, Tomb Raider is currently listed as 'playable', and when choosing it the user is informed: "This game's launcher/setup tool may require the touchscreen or virtual keyboard, or have difficult to read text."
According to Valve, a game can only be rated Verified if it ticks all four of the following boxes:
Input – "The title should have full controller support, use appropriate controller input icons, and automatically bring up the on-screen keyboard when needed."
Seamlessness – "The title shouldn't display any compatibility warnings, and if there's a launcher it should be navigable with a controller."
Display – "The game should support the default resolution of Steam Deck (1280×800 or 1280×720), have good default settings, and text should be legible."
System Support – "If running through Proton, the game and all its middleware should be supported by Proton. This includes anti-cheat support."
Announced in July 2021, Steam Deck is described as "a powerful all-in-one portable PC" capable of running the latest AAA games.
Steam Deck runs the latest version of Valve's SteamOS software – which is based on Linux – allowing players to access their Steam games library and all the platform's features.
However, Valve insists Steam Deck is also an open PC with the ability to install any software or connect with any hardware.