Cyberpunk and GOG owner CD Projekt has halted game sales in Russia and Belarus
The Witcher maker takes action following the invasion of Ukraine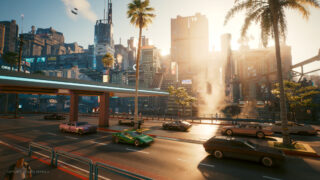 Cyberpunk 2077 and The Witcher maker CD Projekt has halted the sale of its games in Russia and Belarus "until further notice".
The Polish company, which also owns digital distribution platform GOG, made the decision as a result of Russia's invasion of Ukraine, which began on February 24 and is being aided by Belarus.
"Today, we begin working with our partners to suspend digital sales and cease physical stock deliveries of CD Project Group products, as well as all games distributed on the GOG platform, to the territories of Russia and Belarus," it said on Thursday.
Cyberpunk 2077 — Next-Gen Update Launch Trailer
"The entire CD Projekt Group stands firm with the people of Ukraine. While we are not a political entity capable of directly influencing state matters, and don't aspire to be one, we do believe that commercial entities, when united, have the power to inspire global change in the hearts and minds of ordinary people.
"We know that players in Russia and Belarus, individuals who have nothing to do with the invasion of Ukraine, will be impacted by this decision, but with this action we wish to further galvanize the global community to speak about what is going on in the heart of Europe.
"To our brothers and sisters fighting for their home country – stay strong!"
Earlier this week, Ukraine's Deputy Prime Minister called on Xbox and PlayStation to halt product support in both Russia and Belarus.
In an open letter, Mykhailo Fedorov said the platform holders should block all Russian and Belarusian accounts and temporarily stop the participation of their nations' teams and players in all international esports events.
Ukraine-based Stalker 2 studio GSC Game World said this week that the game's development has been put on hold due to Russia's invasion of its home country.
Meanwhile, EA has announced that it is removing all Russian teams from FIFA 22, and all Russian and Belarusian teams from NHL 22.
The developer of anti-war game This War of Mine recently pledged to donate some profits from the game to the Ukrainian Red Cross, while Doom II co-creator John Romero has created a new level for the game to raise money for Ukraine's war effort.
Cyberpunk 2077's long-awaited PS5 and Xbox Series X versions were released last month alongside a significant patch for older platforms such as last-gen consoles and PC.