GOG's Winter Sale has been updated with fresh deals and a new free game
I Have No Mouth and I Must Scream is the second of four titles being given away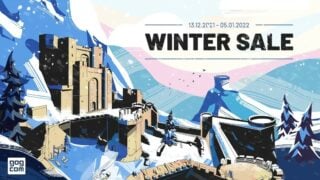 GOG has updated its Winter Sale with fresh deals and another free game.
New titles added to the sale include Horizon Zero Dawn for £19.99 (50% off), Dishonored Complete Collection for £11.04 (80% off), Prey Digital Deluxe Edition, which includes the Mooncrash DLC, for £9 (70% off), Fallout: New Vegas Ultimate Edition for £4.49 (70% off) and A Plague Tale: Innocence for £8.79 (75% off).
GOG's Winter Sale launched on December 13 and is running until January 5. It includes over 3,500+ deals and discounts of up to 90%, according to CD Projekt.
I Have No Mouth and I Must Scream
It's also giving away four games completely free during the sale. Previously it offered Shadow Tactics: Blades of the Shogun free of charge, and now I Have No Mouth and I Must Scream (normally £4.59) is free until December 25 at 6am PT / 9am ET / 2pm GMT.
Free titles will also be given away on December 27 and January 3.
As part of the Winter Sale, VGC has partnered with GOG to supply its own curated selection of games. These include:
Beyond Good & Evil for £1.29 (70% off)
Blade Runner for £5.69 (25% off)
Brothers: A Tale of Two Sons for £2.59 (80% off)
Control Ultimate Edition for £10.49 (70% off)
Disco Elysium – The Final Cut for £15.79 (55% off)
Cyberpunk 2077 for £24.99 (50% off)
The Secret of Monkey Island: Special Edition for £2.69 (65% off)
Star Wars: Rogue Squadron 3D for £2.69 (65% off)
Superhot for £7.19 (60% off)
The Witcher 3: Wild Hunt – Game of the Year Edition for £7 (80% off)
Yooka-Laylee and the Impossible Lair for £9.99 (60% off)