Giveaway: Claim your free Aeronautica Imperialis beta key
Flight Command's test weekend starts Saturday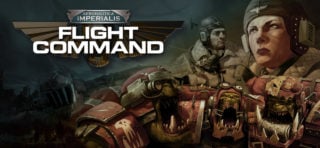 VGC has partnered with Green Man Gaming and developer Binary Planets to give away 5,000 free Aeronautica Imperialis: Flight Command beta keys for an upcoming test weekend.
Aeronautica Imperialis is the first digital adaptation of the Games Workshop game of the same name, and casts players as a Flight Commander in the Imperial Navy, or a Skwadron Kommanda of the Ork Air Waaagh, as they command units in dog fights across a series of missions.
The game features "a combination of phase-based strategy and cinematic action" across a self contained, story based campaign mode, says GMG, with a range of factions each with their own unique capabilities.
They beta keys you can claim on this page will grant access to an upcoming weekend beta test, launching on Saturday, May 16 at 11am BST. The beta will includes all tutorial missions and the first two scenario missions, playable in both single-player and multi-player.
The full game is set to release on May 28.