2021's worst reviewed games include GTA Trilogy and eFootball
Metacritic aggregate scores reveal this year's most criticised releases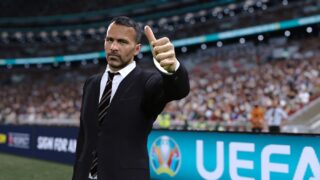 Review aggregation site Metacritic has revealed the ten worst games of 2021, according to weighted average review scores from its approved critics.
Launched in 1999, Metacritic says it curates reviews from only "the world's most respected critics."
According to its rankings (minus any titles with fewer than 7 reviews), the worst scored game of the year was Konami's free-to-play football reboot eFootball 2022, which has been widely panned since its launched in September for buggy performance and missing features.
Other notable releases on the list include Square Enix's Balan Wonderworld. The Yuji Naka platformer released in March to overwhelmingly negative reviews, with the game's Metacritic score currently ranging from 36 to 51. Commercially, the title appears to have been just as disappointing.
Grand Theft Auto: The Trilogy - The Definitive Edition trailer
Another game to suffer a rocky launch, Rockstar's Grand Theft Auto: The Trilogy – Definitive Edition also makes the list.
The highly anticipated remaster collection released in November with a significant number of technical issues, as well as "unintended" documents within its game files such as unlicensed music and developer notes.
Rockstar subsequently apologised to fans for the state of the game and promised a series of updates to improve the title.
For the purposes of this list, we've averaged the difference between the metascores of multiplatform games.
The worst reviewed games of 2021
1. EFootball 2022 (Multi) – 25
2. Werewolf: The Apocalypse – Earthblood (PS4) – 42
3. Balan Wonderworld (Multi) – 44*
3. Of Bird and Cage (PC) – 44
4. Demon Skin (PC) – 48
5. PixelJunk Raiders (Stadia) – 49
5. The Unexpected Quest (Multi) – 49
6. Taxi Chaos (Multi) – 51*
7. Akiba's Trip: Hellbound & Debriefed (Multi) – 52
8. Arkham Horror: Mother's Embrace (Multi) – 53*
8. GTA: The Trilogy – Definitive Edition (Multi) – 53*
9. Necromunda: Hired Gun (Multi) – 55*
*Multiplatform scores averaged