GTA Trilogy Definitive Edition's mobile release has seemingly been delayed
Previously due by June, it will now be released before April 2023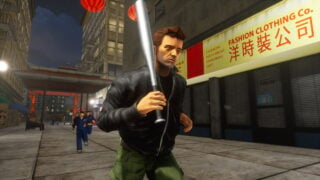 Take-Two has seemingly delayed the mobile version of Grand Theft Auto: The Trilogy – The Definitive Edition.
GTA: The Trilogy – Definitive Edition released late last year for consoles and PC and was originally announced as coming to iOS and Android devices in the first half of calendar 2022.
That release window was reiterated by Rockstar parent company Take-Two during its third quarter earnings report in February, but on Monday its full-year earnings report appeared to confirm a delay.
It said the game is now scheduled for release during the company's current fiscal year ending on March 31, 2023. Unless the game releases next month, this would represent a slip.
Grand Theft Auto the Trilogy - The Definitive Edition trailer
The console and PC remasters were heavily criticised upon release for a significant number of technical issues, as well as "unintended" documents found within game files such as unlicensed music and developer notes, resulting in the PC version being pulled temporarily.
Despite the launch issues, sales figures shared in February suggested the title had sold as many as 10 million copies following its release last November.
Take-Two hasn't confirmed exact sales figures for GTA: The Trilogy – Definitive Edition, but CEO Strauss Zelnick claimed in January that the collection had performed "great" since its release.
And during the company's third quarter earnings call in February, Zelnick said the title had "significantly exceeded" the publisher's commercial expectations.