Veteran Final Fantasy producer Shinji Hashimoto has retired
He also helped create the Kingdom Hearts series during nearly three decades at Square Enix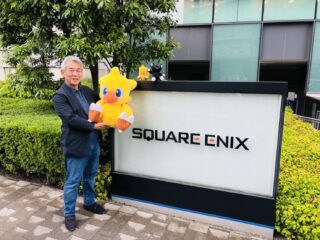 Veteran Final Fantasy producer and former franchise brand manager Shinji Hashimoto has today announced his retirement.
Hashimoto joined Square Enix in 1995 and was a producer or executive producer on virtually every Final Fantasy instalment since 1997's Final Fantasy 7.
He also served as brand manager for the franchise, overseeing the business and marketing aspects of the RPG series for a decade before stepping down from the role last year.
Final Fantasy XVI reveal trailer (PS5 4K 'Awakening' trailer)
Hashimoto helped birth the Kingdom Hears franchise too and served as a producer or executive producer on every series entry.
"Today, Tuesday, May 31, I will be retiring," Hashimoto announced on Twitter. "I would like to thank everyone in various fields for their support during my tenure.
"From now on, I would like to support you as a Square Enix fan. Thank you very much."
Final Fantasy is celebrating its 35th anniversary this year and Square Enix is expected to make a number of announcements related to the series in June.
As well as the release of a new Final Fantasy 16 trailer, the publisher has confirmed that Final Fantasy 7 announcements are on the way.
The game is celebrating its 25th anniversary this year and it's possible Final Fantasy 7 Remake Part 2 is line to be revealed next month.
Final Fantasy XIV was the star performer during Square Enix's fiscal year ended in March 2022, the company said earlier this month.
Boosted by launch of the game's Endwalker expansion last December, sales of the MMO helped to offset a decline in the company's 'HD Games' segment, where titles like Outriders and Guardians of the Galaxy failed to meet expectations.