The new Yuke's wrestling game is officially AEW Fight Forever
Console and PC game's title confirmed alongside new wrestler and gameplay reveals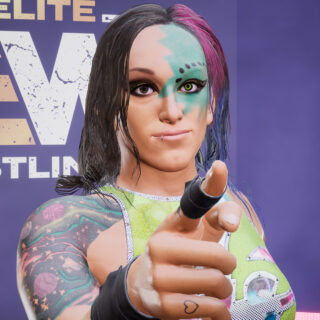 The title of the official All Elite Wrestling game is AEW Fight Forever.
Confirming recent reports, the name of the console and PC title was officially announced on Wednesday.
Two wrestlers set to be included in the game were also revealed today. The videos below offer the first look at the character models and gameplay footage for Nyla Rose and Kris Statlander.
AEW Fight Forever – Development Update: Nyla Rose Reveal
A report last month by wrestling website Fightful Select claimed that the game may be released as soon as September.
It cited an AEW source who claimed that while internal plans had not yet been finalised and there was still work to be done on the game, September was reportedly the release window being considered.
The debut game for the upstart rival to WWE is being developed by Yuke's, the Japanese studio previously responsible for the WWE Smackdown / WWE 2K series from 2000 to 2018.
AEW Fight Forever – Development Update: Kris Statlander Reveal
During the game's announcement in November 2020, it was revealed that genre luminary Hideyuki Iwashita, the director of classic wrestling games WWF No Mercy and Def Jam Vendetta, would also be involved in the AEW title.
And it was confirmed last September that the late Owen Hart, who died in an accident at a WWF show in 1999, will make a posthumous appearance as a playable wrestler in the game. It will mark Hart's first appearance in a wrestling game since Showdown: Legends of Wrestling in 2004.