Sony is making 3 movies and 7 TV shows based on PlayStation games
Uncharted and The Last of Us productions have already been confirmed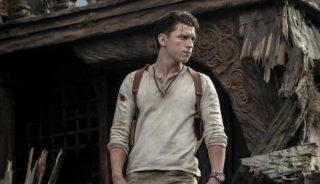 Sony is reportedly developing three movies and seven TV shows based on PlayStation games.
Tony Vinciquerra, the chairman and CEO of Sony Pictures, revealed the figures in an interview with CNBC, according to Media Post.
Currently scheduled for release on July 16, 2021, the Uncharted movie is the first feature film from PlayStation Productions, a studio formed by Sony Interactive Entertainment to adapt its original game properties for film and television.
The division is headed up by veteran Sony marketeer Asad Qizilbash, who's also head of product for PlayStation Worldwide Studios.
Rather than following the plot of the games, which have sold over 41 million units, the Uncharted movie will tell a prequel story featuring Nathan Drake (Tom Holland) as a young treasure hunter learning from his mentor Victor Sullivan (Mark Wahlberg). The movie's cast also reportedly includes Antonio Banderas, Sophia Ali and Tati Gabrielle.
The first TV series from PlayStation Productions will be an HBO adaptation of The Last of Us, co-written and executive produced by Chernobyl creator Craig Mazin and Naughty Dog co-president Neil Druckmann, the creative director of the game series and the co-director of Uncharted 4.
Chernobyl director Johan Renck, who won an Emmy Award for his directorial work on the show, will helm the first episode of the Last of Us TV series.
Vinciquerra also told CNBC that Sony doesn't intend to follow in Warner's footsteps by releasing its big movies at cinemas and on home entertainment platforms simultaneously in 2021.
"I don't think we'll be in the day and date release business, no," he said.
Vinciquerra believes a 30-day window between theatrical and home entertainment releases "is probably the best".