Netflix has shown off the first Sonic Prime footage
The 3D animated series is expected to premiere later this year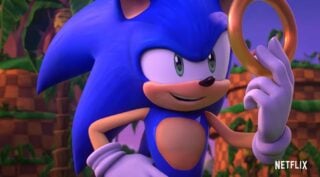 Netflix has released the first footage of its upcoming Sonic Prime TV show, which is viewable below.
The sneak peek at the series can be seen towards the end of a Netflix animated series preview trailer released on Tuesday.
Netflix announced Sonic Prime last February when it said the series would consist of 24 episodes and premiere worldwide in 2022.
Sonic Prime, Kung Fu Panda & More | Animated Series Preview | Netflix
It's billed as "a high-octane adventure where the fate of a strange new multiverse" rests in Sonic's hands, as well as "a journey of self-discovery and redemption".
Canadian production company WildBrain is animating the series at its Vancouver studio, with Sonic Prime's showrunners and executive producers coming from Man of Action Entertainment (Ben 10, Big Hero 6).
Publisher Sega confirmed last week that digital versions of the standalone games included in Sonic Origins will be removed from sale ahead of the collection's release.
It plans to delist Sonic the Hedgehog, Sonic the Hedgehog 2, Sonic the Hedgehog 3, Sonic & Knuckles, and Sonic CD on May 20.
Sonic Origins will be released on June 23 for PS5, Xbox Series X/S, Switch, PC, PS4 and Xbox One.
Specific modes, features and even visual elements in Sonic Origins will be locked away as premium additions.
The Sonic the Hedgehog 2 movie recently became the highest-grossing video game film of all time in the US.