Hogwarts Legacy is also coming to Nintendo Switch
FAQ reveals new details, including no plans for online gameplay or microtransactions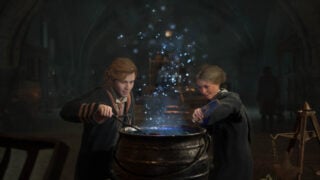 Warner Bros. Games has confirmed plans to release Hogwarts Legacy for Nintendo Switch.
When the game was first revealed in September 2020, it was only announced for PS5, PS4, Xbox Series X/S, Xbox One and PC.
But in an FAQ published after Thursday's announcement that the game will be released during the 2022 holiday season, Warner said the title is also coming to Nintendo's console.
The game's release window was confirmed during a Sony State of Play presentation on Thursday, which included over 14 minutes of Hogwarts Legacy gameplay captured on PS5.
Hogwarts Legacy - Official Behind the Scenes 4K | PS5, PS4
Following the gameplay reveal, Hogwarts Legacy developers at Avalanche Software also provided additional insight into what players can expect from the title in a behind the scenes video, which is viewable above.
"Hogwarts Legacy is an immersive, open-world action RPG set in the world first introduced in the Harry Potter books," according to Warner, which is publishing the game under its Portkey Games label.
"Players will experience life as a student at Hogwarts School of Witchcraft and Wizardry in the 1800s as they embark on a dangerous journey to uncover a hidden truth of the wizarding world.
"They will grow their magical abilities by mastering spells, brewing potions, taming magical beasts and more."
Elsewhere in the FAQ, Warner said Hogwarts Legacy doesn't support online or co-op gameplay and doesn't have in-game purchases or microtransactions.
It also commented on Harry Potter author J.K. Rowling's level of involvement in the game.
"Each experience offered under Portkey Games will take place in the wizarding world and will be authentic to it. J.K. Rowling is supportive of Portkey Games and has entrusted the design and creation of the games to Warner Bros. Games and the developers involved," it said.
"Her team have also collaborated with Warner Bros. Games on all aspects of Hogwarts Legacy to ensure it remains a true part of the Wizarding World experience and is in line with the creativity and magic that fans expect."