A smaller, stealth-focused Assassin's Creed game starring Basim is reportedly coming by 2023
It's claimed the project was originally planned as a Valhalla expansion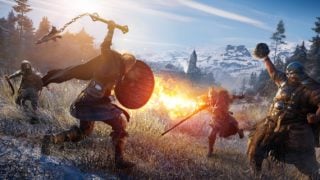 Ubisoft is reportedly planning to release a smaller-scale, stealth-focused Assassin's Creed game later this year or in 2023.
Codenamed Rift and starring Assassin's Creed Valhalla character Basim, the title was originally planned as an expansion for the most recent series entry before being spun into a standalone game last year, Bloomberg claims.
It will reportedly focus on stealth gameplay and be smaller in scope than recent franchise entries, meaning it won't be a large open-world RPG.
Dawn of Ragnarök - Deep Dive Trailer - Assassin's Creed Valhalla
A Ubisoft spokesperson told Bloomberg the company doesn't comment on rumours or speculation "as they do a disservice to our development teams and community".
Assassin's Creed Rift will reportedly be released before the officially announced Assassin's Creed Infinity, which is a collaboration between Ubisoft Quebec (Odyssey) and Ubisoft Montreal (Origins and Valhalla).
It's been claimed that Assassin's Creed Infinity will be a massive online game set across multiple historical periods, and one that that evolves over time as a live service.
Ubisoft revealed plans for Assassin's Creed Valhalla's second year of content—a first for the series—in December.
They include the launch of Assassin's Creed Valhalla's Dawn of Ragnarök DLC in March.
Developed by Ubisoft Sofia, the team responsible for Assassin's Creed Rogue and the Curse of the Pharaohs expansion for Assassin's Creed Origins, Dawn of Ragnarök will offer some 35 hours of gameplay.
Ubisoft also plans to add 60FPS support for 2017's Assassin's Creed Origins when played on PS5 and Xbox Series X/S via backwards compatibility.