Final Fantasy gets a 35th anniversary site, teasing game announcements to come
"We will be bringing you many exciting new ways to enjoy the world of Final Fantasy"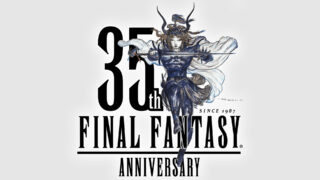 Square Enix has launched a new site to celebrate the 35th anniversary of the Final Fantasy series, and is teasing that news of future games is on the way.
The site notes that the original Final Fantasy was released on the Famicom in Japan on December 18, 1987, meaning the series will mark its 35th birthday later this year.
"In this 35th anniversary year, we will be bringing you many exciting new ways to enjoy the worlds of Final Fantasy", the site says.
"Please look forward to what Final Fantasy has in store."
Stranger of Paradise: Final Fantasy Origin trailer
The site lists Chocobo GP and Stranger of Paradise: Final Fantasy Origin as upcoming titles, but also teases "and more".
This could refer to a number of potential Final Fantasy titles which are due to receive announcements or more information soon.
Final Fantasy XVI was announced during a PlayStation Showcase event in 2020 but nothing has been seen of it since. Producer Naoki Yoshida said in December 2021 that the COVID-19 pandemic had delayed development by half a year, and that a reveal was now planned for Spring 2022.
Final Fantasy VII Remake Part 2 is also likely to be announced soon, with producer Yoshinori Kitase confirming during a live stream in January that he wants to reveal it during the series' 35th anniversary year.
A reveal may come during Sony's new State of Play presentation, which is coming later today.
Sony has already stated that the presentation will have "a special focus on highlighting great games coming from some of our beloved Japanese publishers".