PS1 and PSP games are appearing on PlayStation's servers as the new PS Plus nears
Ridge Racers 2, Tekken 2 and Mr Driller are among the games that have been spotted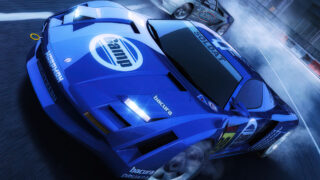 Retro PlayStation games have started to appear on the PlayStation Network's backend servers in advance of the new PlayStation Plus service.
When it launches in June, the new PS Plus will be a three-tiered service, with the top tier adding access to up to 340 retro PS1, PS2, PS3 and PSP games (with the PS3 games streaming-only).
Reddit user the_andshrew has found imagery and title IDs for five of these games, suggesting Sony is currently in the process of adding the new retro library to its servers.
The five games that have been spotted so far are:
Mr Driller (PS1)
Tekken 2 (PS1)
Ridge Racers 2 (PSP)
Worms Armageddon (PS1)
Worms World Party (PS1)
It was also spotted last week that four classic Syphon Filter games have been rated for PS4 and PS5 in Korea.
Syphon Filter, Syphon Filter 2, Syphon Filter: Dark Mirror and Syphon Filter: Logan's Shadow were all given ratings, suggesting these will also be part of Sony's upcoming retro library.
Launching in June and structured across three payment tiers, the new PS Plus will combine the existing PS Plus and PS Now subscriptions, phasing out the branding of the latter.
PS Plus Essentials offers the same benefits as the current PS Plus service, with monthly free games, discounts and online multiplayer. It will also cost the same: $9.99/€8.99/£6.99 a month, $24.99/€24.99/£19.99 for three months, or $59.99/€59.99/£49.99 a year.
PS Plus Extra will include the same benefits but with access to a library of 400 downloadable PS4 and PS5 games. It will cost $14.99/€13.99/£10.99 a month, $39.99/€39.99/£31.99 for three months, or $99.99/€99.99/£83.99 a year.
PS Plus Premium will include the above benefits but adds up to 340 additional games including PS3 titles available via cloud streaming, and a catalogue of classic games available in both streaming and download options from the PSOne, PS2 and PSP generations.