Dying Light 2's first story DLC has been delayed to September
An updated DLC roadmap has also been released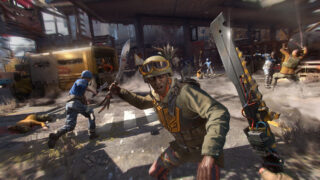 Dying Light 2's first piece of story DLC has been delayed, Techland has announced.
Originally scheduled to launch in June, it will now be released in September.
"Dear Pilgrims, your feedback always has the highest priority for us, and we want to be honest and transparent with you," Techland said on Thursday.
"We will still need a bit more time to develop the first story DLC. It is now planned to be released in September.
Dying Light 2 - Stay Human - New Parkour Challenges
"However, in June, we will introduce the first game Chapter entitled 'In the Footsteps of a Nightrunner', filled with content and events, as well as the highly anticipated photo mode, so stay tuned for more action in The City!"
Prior to Dying Light 2's release, Techland said it intended to support the open-world zombie sequel with at least five years of post-launch content.
The story DLC was one of the first focal points on the game's original post-launch roadmap. The studio today provided the following updated roadmap:
In a recent Game Informer interview, Dying Light 2 lead game designer Tymon Smektała appeared to leave open the possibility that the title's first story DLC won't follow on from the events of the main game.
He said the studio is currently developing narrative content that occurs "sideways to the main events" and he expects it to surprise fans.
"The first story DLC that we have promised, I've seen a lot of speculation online about what it will be and I can say confidently that they… weren't close to the mark", he said.
Smektała added: "At some point, we will actually start adding to the events that happened at the end of the game. We have some ideas. On paper, as they are implemented right now, it seems promising, but definitely, this will be a challenge."