Blizzard's boss has told fans to 'stay tuned' for Warcraft, Overwatch and Diablo news
Message delivered following the announcement of the studio's new survival game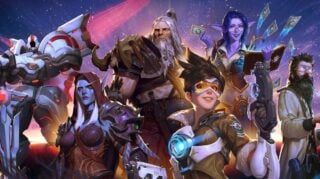 Blizzard fans eagerly awaiting updates on some of its established series shouldn't have to wait too long, according to studio head Mike Ybarra.
On Tuesday the company announced that it was staffing up for work on "a new AAA survival game" for PC and console.
When one Twitter user responded by suggesting Blizzard should be dedicating more of its resources to existing products, Ybarra said updates on Warcraft and Overwatch development would arrive soon.
"Blizzard is a big studio and we have talented and growing teams supporting live games as well," he wrote. "Over the coming weeks, you'll be hearing more on that from Warcraft and Overwatch. Diablo will follow. Stay tuned!"
Overwatch 2 Developer PVP Livestream
Blizzard has said it's been working on more projects that at any time in its history in recent years, including Overwatch 2 and Diablo 4, which were recently delayed until at least 2023.
World of Warcraft, which has received a new expansion roughly every two years since its 2004 launch, last got one in November 2020 in the form of Shadowlands.
Blizzard has traditionally delivered a series of product updates at BlizzCon each November, but the fan convention has been cancelled for the past two years due to disruption caused by the coronavirus pandemic.
It was scheduled to hold a hybrid event mixing the formula of February 2021's BlizzConline "with smaller in-person gatherings" in early 2022, but those plans were also cancelled following sexual discrimination and harassment revelations which have tarnished the reputation of the studio and its parent company.
Xbox owner Microsoft announced last week that it intends to purchase Activision Blizzard in a $68.7 billion deal – the game industry's biggest ever by some distance.
The acquisition, which will give Microsoft exclusive ownership of Call of Duty, Warcraft, Overwatch, Crash Bandicoot, Guitar Hero and more, is expected to close by June 2023.
Ybarra joined Blizzard in 2019 following a 20-year spell at Microsoft.