Dark Souls PC servers are returning after 4 months offline, but there's still no confirmed date
FormSoftware says it's "in the process" of bringing the trilogy back online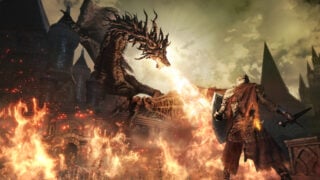 FromSoftware has confirmed that the PC servers for its Dark Souls games will come back online at some point, but it still hasn't provided a date for this.
The PvP servers for the PC versions of Dark Souls: Remastered, Dark Souls 2 and Dark Souls 3 were "temporarily deactivated" in January, following reports of a potentially serious security issue.
Publisher Bandai Namco then confirmed that the servers would remain offline until after the release of Elden Ring, so the "necessary security measures" needed to fix them could be implemented.
Now, more than 4 months since the PC servers were turned off, FromSoftware has confirmed that it's working on bringing them back online, but hasn't stated exactly when this will happen.
In a statement to PC Gamer, the studio confirmed: "We are currently in the process of restoring the online servers for the Dark Souls series on PC.
"We plan to restore online service for each game progressively, bringing back servers for Dark Souls 3 once we complete the necessary work to correct the problem.
"We will provide additional updates as soon as the restoration schedule is finalised. We want to thank all our players for your patience and understanding as we work to fix this issue."
The servers were turned off following the discovery of a severe remote code execution (RCE) vulnerability, which was said to allow abusers to take control of other players' PCs.
In March, one of the people behind the discovery of the vulnerability publicly disclosed details of the exploit.
The public disclosure contained proof of concept code and documentation for the RCE exploit that forced From Software to take the PC servers down. According to the description, the vulnerability is confirmed to be present in Dark Souls 1, Dark Souls Remastered, Dark Souls 2 and Dark Souls 3.
Although the vulnerability has not been confirmed for Demon's Souls it is said to be "very likely", and it's also confirmed to be in Sekiro but there's allegedly no way to trigger it.
However, the person who discovered the exploit confirmed to VGC that it appears to be "completely fixed" in Elden Ring.