A leaked Overwatch 2 gameplay trailer shows off new character Sojourn
The Chinese trailer demonstrates her abilities and railgun weapon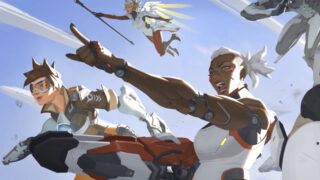 A gameplay trailer for Sojourn, a new Overwatch 2 character, has leaked early.
The trailer was reportedly shown on the game's official Taiwanese YouTube page and was then removed, but not before other players saved and shared it.
The video focuses on the new Canadian character – who's the first black female character in the Overwatch series – and demonstrates her abilities, including her special rail gun weapon.
It appears from the trailer that Sojourn's railgun can fire rapidly in an automatic mode, and can then be switched to fire more powerful shots.
A video showing Sojourn's origin story was published on Wednesday on the official Overwatch YouTube account, but unlike the newly-leaked video this didn't show any gameplay footage.
Sojourn will be part of the Overwatch 2 closed beta, which will begin on April 26.
The beta will include access to Overwatch 2's 5v5 PvP mode, the new Push Mode, Ping System, four hero reworks (Orisa, Doomfist, Bastion, Sombra), one new hero (Sojourn), all OW1 maps and four new maps (Circuit Royal, Midtown, Toronto and Rome).
A statement released by Overwatch 2 game director Aaron Keller in March apologised for the relative lack of communication about the game's progress.
"I want to thank our players for your continued support," he said. "We recognise that we haven't communicated well, haven't kept you up to date and, honestly, we've let you down when it comes to developing Overwatch content.
Sojourn Origin Story | Overwatch 2
"Based on your feedback we've taken some time to rethink Overwatch 2, with the singular goal of making sure it's a living game, serving our players with exciting content on a regular basis."
Activision announced in November 2021 that both Overwatch 2 and Diablo 4 had been delayed to at least 2023.
"As we have worked with new leadership in Blizzard and within the franchises themselves, particularly in certain key creative roles, it has become apparent that some of the Blizzard content planned for next year will benefit from more development time to reach its full potential," Activision Blizzard chief operating officer Daniel Alegre said at the time.
"While we are still planning to deliver a substantial amount of content from Blizzard next year, we are now planning for a later launch for Overwatch 2 and Diablo IV than originally envisaged."