Overwatch 2's closed beta has a release date
Users who sign up will be able to try PvP modes in April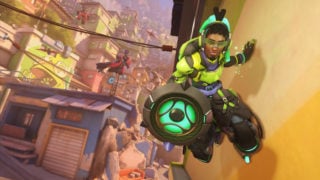 Blizzard has confirmed that the previously-announced Overwatch 2 closed beta will begin on April 26.
The beta follows the closed alpha test, which is currently open to Blizzard employees and Overwatch League pros, and users can sign up now via PlayOverwatch.com.
The beta will include access to Overwatch 2's 5v5 PvP mode, the new Push Mode, Ping System, four hero reworks (Orisa, Doomfist, Bastion, Sombra), one new hero (Sojourn), all OW1 maps and four new maps (Circuit Royal, Midtown, Toronto and Rome).
Overwatch 2 - developer update
Overwatch 2's development stream detailed the beta in a live stream on Friday. In a previous update published this month, the game's dev team confirmed it now plans to separate Overwatch 2's PvE element from the traditional multiplayer suite so that it can spend more time working on the former.
"Based on your feedback we've taken some time to rethink Overwatch 2, with the singular goal of making sure it's a living game, serving our players with exciting content on a regular basis," game director Aaron Keller said earlier this month.
Blizzard announced in November that both Overwatch 2 and Diablo 4 had been delayed to at least 2023.
"As we have worked with new leadership in Blizzard and within the franchises themselves, particularly in certain key creative roles, it has become apparent that some of the Blizzard content planned for next year will benefit from more development time to reach its full potential," Activision Blizzard chief operating officer Daniel Alegre said in a statement at the time.
"While we are still planning to deliver a substantial amount of content from Blizzard next year, we are now planning for a later launch for Overwatch 2 and Diablo IV than originally envisaged."