Ex-PlayStation boss doesn't think Sony will ever do day one PC releases
Shawn Layden discusses the origins of Sony's PC game strategy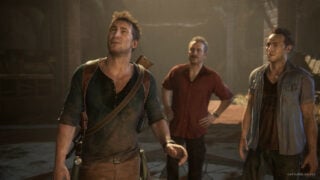 Former PlayStation executive Shawn Layden doesn't think Sony Interactive Entertainment will ever choose to launch its games for console and PC simultaneously.
While Microsoft has opted to bring Xbox Game Studios titles to console and PC at launch, Sony has taken a more cautious approach to releasing its games off console.
It tested the water with Horizon Zero Dawn, which released for PC in August 2020, over three years after its PS4 debut.
Days Gone then hit PC this May, over two years after its PS4 release, while 2016's Uncharted 4: A Thief's End and 2017's Uncharted: The Lost Legacy will make the jump to PC in 2022 – "shortly after" they arrive for PS5.
Uncharted Legacy of Thieves Collection
Former PlayStation US boss Layden, who was chairman of the company's worldwide studios group when he left Sony in 2019, discussed the origins of the company's PC game strategy in a recent video interview with What's Up PlayStation.
"The idea of going to PC—and I don't think you'll ever see PlayStation do a day and date with PC, but you know, never say never—but the strategy as we were developing it when I was there was that we need to go out to where these new customers are, these new fans could be," he said.
"We need to go to where they are because they've decided not to go to come to my house so I've got to go to their house now.
"And what's the best way to go to their house? Why don't I take one of our top selling games, which has already blown up the marketplace, it's already been out there for 18 months or 24 months, there's no real retail activity against that title, I'm not trading off one sale for another, and bring that to the personal computer platform and let them have an idea – you guys choose not to come to PlayStation but let me show you what you're missing."
For Layden, "there's no losing in this transaction" as PC game sales aren't coming at the expense of console software purchases, and ideally they might encourage PC players to buy a console down the line.
"It's a way of outreach, that's how I see it – trying to get to the people that the platform doesn't currently speak to," he said.
PlayStation Studios boss Hermen Hulst said in June that the platform holder was "still early on in our planning for PC" but that consoles would remain the priority for new releases.
"Horizon Zero Dawn has been very successful [on PC]," he said. "I think it shows there's an appetite from gamers outside the PlayStation ecosystem to experience the amazing portfolio of games that PlayStation fans have enjoyed for years.
"But I want to emphasize that PlayStation will remain the best place to play our PlayStation Studios titles at launch. But we do value PC gamers, and we'll continue to look at the right times to launch each game. Bend Studio just released the PC version of Days Gone on May 18. So that's about two years after the PS4 release.
"And I hope that a new set of fans can and will enjoy that title. And that's the goal — we want to reach new gamers who haven't yet experienced the great stories, characters, and worlds that we've built. Releasing games on PC will not come ever at the expense of building an exciting lineup of great console games."
PlayStation recently acquired Nixxes Software, which is best known for its work on the PC versions of Square Enix properties including Tomb Raider, Deus Ex, Hitman and Thief, to help it bring its games to the platform.