Horizon producer responds to PC criticism: 'What is wrong with you people?'
Former Guerrilla employee calls out port critics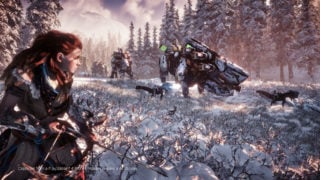 A former Horizon Zero Dawn producer has criticised some PlayStation fans who responded negatively to the announcement that the PS4 exclusive is coming to PC.
PlayStation confirmed on Tuesday that the ten-million-selling game, which originally released for PS4 in February 2017, will launch for PC this summer.
The news was met with negativity from some consumers, including one Twitter user who published a video showing a smashed office accompanied by the following message:
"Great way to spend my birthday. Thanks for f*cking nothing @PlayStation @Guerrilla @hermenhulst @yosp decades thrown away and now it was all for nothing."
It's not clear if the video is authentic, but it was enough to provoke a response from Sam Sharma, who was a senior online producer at Horizon Zero Dawn studio Guerrilla Games when the game was made.
When a PC version of Horizon was previously rumoured in January, Sharma – now a producer at Electronic Arts – said the game coming to a new platform should be a cause for celebration.
Sharma's comments echo those of former Guerrilla MD Hulst, who told the PlayStation Blog on Tuesday: "I think it's important that we stay open to new ideas of how to introduce more people to PlayStation, and show people maybe what they've been missing out on."
Aware of how the Horizon Zero Dawn PC announcement might be received by some sections of the PlayStation community, Hulst assured fans that it won't necessarily bring all of its titles to the platorm..
"And to maybe put a few minds at ease, releasing one first-party AAA title to PC doesn't necessarily mean that every game now will come to PC. In my mind, Horizon Zero Dawn was just a great fit in this particular instance.
"We don't have plans for day and date [PC releases], and we remain 100% committed to dedicated hardware."
Mark Healey, a co-founder of Sony owned studio Media Molecule, recently told VGC that a PC version of Dreams isn't currently in development, but that it would be "great" to release one in the future.
"I think that would be cool," he said. "I mean obviously Sony have an opinion about that but yeah, I think, I don't know where it's going to go in the future, I mean it would be great to see that.
"That's not something that's happening right now," he continued, "but I think a lot of that depends on where the games industry goes in general, I suppose."