Rocket League goes free-to-play and it comes with a $10 coupon on the Epic Games Store
The game is no longer available to download on Steam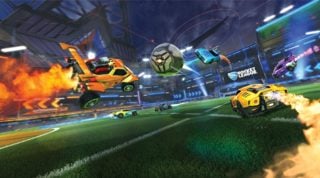 Rocket League has adopted a free-to-play model following today's move from Steam to the Epic Games Store.
The Epic Games Store version features cross-platform play with all other versions of the title, which are also now free-to-play.
Steam users can still access Rocket League and receive future updates and features, but the game is no longer available for new players on the platform.
The Epic Games Store version comes with a $10/£10 coupon until October 23 at 11am ET/4pm UK. Coupons will expire on November 1 at 2.59am/7.59am UK and qualifying purchases must be a minimum price of $14.99/£13.99 after the discount is applied.
Epic Games acquired Rocket League developer Psyonix in 2019. To date, the game has reached more than 75 million players, according to the studio.
The game's free-to-play update is said to be its biggest yet, with "major changes" to the Tournaments and Challenge systems, and cross-platform progression for players' item inventory, Rocket Pass progress, and Competitive Rank, by linking to an Epic Games account.
Established in 2001, Psyonix has previously contributed to titles in Epic's Gears of War and Unreal Tournament franchises, among other Unreal Engine games.