God of War Ragnarök has officially been delayed to 2022
Sony also says Horizon Forbidden West's planned holiday 2021 release "isn't quite certain yet"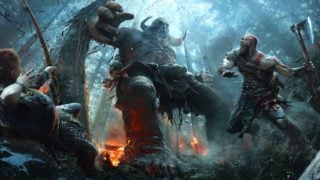 Sony Interactive Entertainment has delayed the release of God of War Ragnarök from this year to 2022.
"Since the release of the next God of War teaser last year, we've been humbled by the amount of love our community has shown us," developer Sony Santa Monica said in a statement released on Wednesday.
"We're incredibly grateful to see so many people excited to experience the next chapter of Kratos and Artreus' journey.
"We remain focused on delivering a top-quality game while maintaining the safety and wellbeing of our team, creative partners and families. With this in mind, we've made the decision to shift our release window to 2022.
"Thank you all for your continued support, we've got some exciting things in the works that we can't wait to show you!"
Sony also confirmed on Wednesday that it will release God of War Ragnarök and Gran Turismo 7 for PlayStation 4 as well as PlayStation 5.
The follow-up to 2018's PS4 exclusive God of War was announced via a brief teaser last year for release on PS5 in 2021, although nothing more had been heard of the project until now.
Unlike previous entries in the long-running series, which were inspired by Greek mythology, God of War is loosely based on Norse mythology.
The series reboot was a critical and commercial success, winning multiple Game of the Year awards and selling over 10 million copies.
PlayStation Studios boss Hermen Hulst, who recently named God of War Ragnarök his most anticipated game, discussed the title's delay in a PlayStation Blog Q&A published on Wednesday. In the interview, he refused to rule out the possibility of Guerrilla Games' Horizon Forbidden West also slipping to 2022.
"So we have, currently, two very big, very narrative-driven games in development: Horizon Forbidden West and the next God of War. And for both of those, they're frankly affected by access to performance capture and talent," he said.
"For Horizon, we think we are on track to release this holiday season. But that isn't quite certain yet, and we're working as hard as we can to confirm that to you as soon as we can.
"And for God of War, the project started a little later. So we've made the decision to push that game out to next year, to ensure that Santa Monica Studio can deliver the amazing God of War game that we all want to play.
"With these things, something's gotta give," Hulst continued. "It cannot be the quality of our titles, and it surely won't be the health or the wellbeing of our amazing team."
Guerrilla revealed almost 14 minutes of Horizon Forbidden West gameplay last week but there was no news about the game's release date, leading to some speculation that it might not make its planned 2021 launch.
"We don't have an exact release date just yet, but development is on track and we will have an update for you very soon", Guerrilla tweeted following the gameplay presentation.