'Acquiring Level 5 could be good for Square Enix' – Comments of the Week
We round up the correspondence VGC has received this past week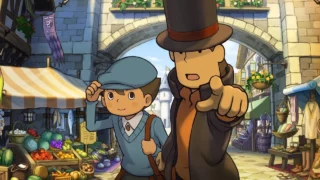 We spend all week writing words for you, our dear readers, so it's only fair that we read the words you write back at us.
Comments of the Week is our weekly round-up in which we look at our favourite:
Comments posted in our
Replies to our tweets
Messages in the VGC Discord server (join us!)
Comments on our YouTube videos
To qualify for Comments of the Week, a comment doesn't have to necessarily be amusing (though it certainly helps its chances). It can be a good point, an interesting observation or, on occasion, something so ridiculous it has to be called out.
It should go without saying, but if you want to have a chance of being featured in Comments of the Week in the future then be sure to comment on our articles, reply to our tweets, comment on our YouTube videos and join our Discord server. We'll take it from there.
Here's what made the cut this week.
---
Comments of the week
System of a Down's frontman is providing music for a new rhythm-based shooter
"Wake up!
"Grabagunit'stimeforashoot'emup!"
You know, Caffeine Rage, your username is actually perfect for that Chop Suey impression.
---
"The Activision studios have such a brighter future under Microsoft's leadership.
"Just to think of Xbox reviving properties like Skylanders, Spyro, Blur, and Prototype gives me a tremendous great feeling."
Perhaps, MoreGames, but let's wait and see if those games are actually made first.
---
Call of Duty Vanguard multiplayer is currently free for one week
"Makes me laugh, they state Vanguard failed because of consumer overload. Getting a new game every year.
"But what killed Vanguard was skilled based matchmaking and disbanding lobbies, not to mention a ton of bugs. They killed their own game by their executive decisions.
"I would have more respect for them if they admitted they got it wrong and got rid of Sledgehammer games. Because if Sledgehammer are still in the loop, two/four years from now … nobody is buying a COD game they make."
We don't think a week-long free trial is necessarily evidence the game has been 'killed', Fallenlords.
---
DICE says Battlefield 2042 Season 1 is currently set for release in early June
"Screw DICE. Only reason I bought this garbage was for 128p breakthrough, and they won't even issue refunds for removing a key selling point and lying to the community. 64 player modes were supposed to be temporary, but I guess they're actually permanent and the 128p modes are temporary since DICE might axe them without warning.
"I hope S1 crashes and burns for them harder than the launch did. They deserve all the failure for how badly they've handled this game and the post-launch support and communication, or lack thereof since they barely communicate anything."
Well, it looks like it's been a cheery week, what with the COD comment and now this from greaterdivinity.
---
New PS5 console covers colours go on sale in June
"$50 for piece of $2 plastic is criminal. Also, this really feels like lipstick on a pig."
For the avoidance of doubt, medicalmechanica, Sony doesn't test its PS5 covers on animals.
---
Fall Guys is going free-to-play alongside its Switch and Xbox release in June
"Abit late, they should've capitalized on it when it was hot in peoples minds."
True, VXGAMING, but this (along with the Xbox and Switch releases) might give it another burst of popularity.
---
"they should cancel the special edition because not all games are deserving of getting special editions, especially this game, there's nothing special about special editions, and games that do deserve special editions should cost $1500"
Folks, if you're going to try a wind-up like terry syvertson here, at least be realistic so people might fall for it.
---
A week after selling its Western studios, Square Enix says it will establish or buy new ones
"I think acquiring Level 5 could be good for them."
Honey_Bunny there, with one of the more interesting suggestions of the week. The Professor Layton and Ni No Kuni studio under Square Enix's ownership? We'd like to see that.
---
Tweets of the week
Don't be so… actually, hang on. You have our attention.
---
We agree to an extent but since it's the Series S that's doing so well in Japan we wonder if it's more a case that people there want to buy it as well as a PS5, rather than "over a PS5".
---
"You wouldn't like me when I'm on a killstreak."
---
Good point, though Rebellion may be feeling left out.
---
At the risk of getting deep, nobody really needs any video game. Would be nice, though.
---
Ooof, Vanguard is getting a kicking this week.
---
You know a tweet had an impact when people are bringing it up a decade later.
---
How do you pay for GamePass then? In biscuits?
---
Got to say, we're up for that.