Darksiders Genesis 'exceeded' Embracer CEO's expectations
Action RPG performing solidly, according to Lars Wingefors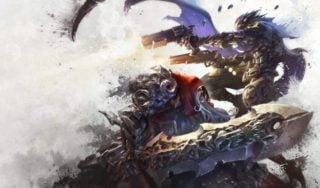 Action RPG Darksiders Genesis has performed solidly, according to the CEO of Embracer Group, the parent company of publisher THQ Nordic.
The Darksiders spin-off released for PC and Stadia on December 5, 2019, before arriving on Xbox One, PS4 and Switch on February 14, 2020.
"I think Darksiders Genesis had a solid performance," Embracer CEO Lars Wingefors said during an earnings presentation on Wednesday.
"It was well received and it has continued to perform also after the release window, so I would say it's exceeded my own expectations."
The spin-off of the mainline Darksiders action adventure series was developed by Battle Chasers: Nightwar studio Airship Syndicate.
It sees players take on the role of a new Horseman of the Apocalypse, Strife, who can battle alongside his brother and fellow horsemen War in the series' first two-player co-op mode.
Solo players can alternate between Strife and War, taking advantage of Strife's ranged and War's melee style attacks.
THQ Nordic announced the acquisition of Darksiders studio Gunfire Games in August 2019.
Founded in 2014 by former Vigil Games employees, Austin, Texas-based Gunfire is the developer behind Darksiders II: Deathinitive Edition, Darksiders III, From Other Suns, Chronos and Remnant: From the Ashes.
During Embracer Group's presentation on Wednesday, Wingefors also said Shenmue 3 has performed "fine" financially but has proved to be a "a core niche product", and that Metro Exodus is performing "great" on Steam following its recent release on the platform.
And Embracer announced a deal to acquire Saber Interactive, the New Jersey, US-based development studio behind 2019's World War Z, Ghostbusters: The Video Game Remastered and The Witcher 3: Complete Edition for Switch.