Darksiders games are now free on Epic Games Store
First two titles available to download, plus Ubisoft's Steep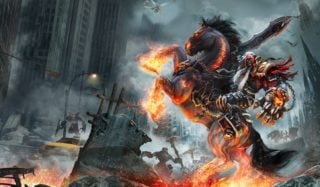 The Epic Games Store is offering the first two Darksiders games and Ubisoft's Steep as its latest free game downloads.
Darksiders Warmastered Edition and Darksiders 2 Deathinitive Edition both include improved visuals from their original releases.
The action adventure titles see players taking control of one of the Four Horsemen of the Apocalypse as they battle to bring balance to the universe.
Meanwhile Ubisoft's Steep is an extreme sports game first released in 2016.
Steep is set in the Alps, where players can participate in several winter and extreme sports disciplines, including skiing, snowboarding, paragliding and wingsuit flying.
The games are free on the Epic Games Store until 11am ET / 8am PT / 4pm UK on January 9 and can be kept forever by those who download them.
Epic has been giving away free games on its digital storefront for more than a year.
The company originally launched a bi-monthly free game offer in December 2018 but said in May 2019 that it was increasing the frequency of the offer to one free game per week.
Titles offered for free have included Alan Wake, For Honor, Limbo, This War of Mine, Overcooked, World of Goo, Transistor, The Witness, Hyper Light Drifter, Fez, Inside, Celeste, Metro 2033 Redux, Minit and Observer.
Epic said in May 2019 there had been more than 25 million free game installs. It didn't have an updated figure to share when contacted by VGC.