Days Gone's director wanted to make an Uncharted game about young Sully
This followed the cancellation of a sequel to Days Gone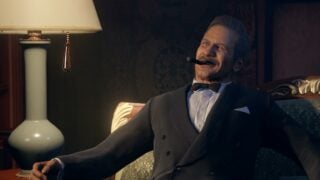 Days Gone director Jeff Ross wanted to make an Uncharted game focused on a young Sully, he has revealed.
Speaking on the Sacred Symbols+ video show (paywalled, transcribed by VGC), the director discussed how following Sony's decision not to greenlight a sequel to Days Gone, the team started theorizing games with other Sony IP, including Uncharted.
"Victor Sullivan at the age of 25 in a very stylised world where… it would be around 1976 it think is where we figured out his age might be," Ross revealed when pressed on his plan for the series.
Uncharted: Legacy of Thieves Collection review
"He busted out of the Navy for reasons, and I thought seeing him young and trying to figure out his way in this world going from trying to be a soldier or you know a military man to now I'm just out on the streets and I'm gonna become a hustler".
Ross went on to reveal that in his concept, Sully would evoke James Bond icon Sean Connery: "A young sexy Victor Sullivan, to me, would have been like Sean Connery"
He also mentioned that films such as Joker and Once Upon A Time In Hollywood's portrayal of the 70s influenced the idea. "That's what I wanted to do without leaning into the cheesy parts of the 70s," he said.
Ross noted that some stumbles with the concept included that they didn't feel there would have been as many "opportunities for shootouts". He also mentioned that he didn't want to make "the first Uncharted game where the player didn't shoot anybody."
Jeff Ross and Sony Bend previously worked with the Uncharted IP on 2011's Uncharted Golden Abyss for the PlayStation Vita. The game was met with critical praise and went on to be the highest-selling title on the platform.
Jeff Ross, who left Bend Studio in 2020 after some 20 years at the company, has openly discussed his failed plans for Day Gone 2 in recent months.
And he previously revealed that he pitched an open-world Resistance game to Sony, after it was clear the company wasn't interested in a sequel to Bend's PS4 title.
Ross was also asked if he could reboot PlayStation classic Syphon Filter, he has claimed, but that he didn't feel that a full game would've come from it.
"It was just an ask: 'are there any other IPs that we have that we can use?' and the only other IP was Syphon Filter," he explained last month. "But honestly, I have zero ideas on how to reboot Syphon Filter. I was not interested in that at all."