Days Gone director gives more details on the rejected sequel
Ex-bend lead says Days Gone 2 would have been a "definitive version" of the original vision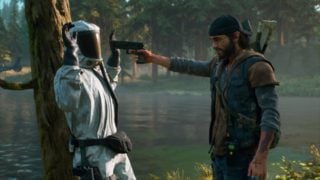 The game director of Days Gone has shared more information on what its sequel could have been like.
Jeff Ross, who left Bend Studio in 2020 after some 20 years at the company, told USA Today that the sequel was going to be "the definitive version" of the Days Gone concept, one that would mean he "didn't have to necessarily apologise for so much".
According to Ross, the game would continue to follow the story of protagonist Deacon and his partner Sarah.
"Yeah, they're back together, but maybe they're not happy," Ross explained. "Well, what can we do with that? Okay, we were married before the apocalypse, but what about the future?"
Ross also said the sequel was going to give the player more tools to play with, following Deacon's acquisition of tech owned by NERO in the first game.
Days Gone - story trailer
"We would have kept the heavy, strong narrative," he said. "We would have kept the bike, obviously. And I think we would have expanded the tone a little bit in a more technical direction, kind of like, alright, now we have all this NERO tech – what can we do with it?
"The tone would have expanded one ring outward towards some of the new reality. I think this would have been a little bit more – I don't want to say Avengers, but something where the player had resources, he had some sort of the remnants of whatever the government had."
Other ideas planned for Days Gone 2 included the ability to swim and far fewer instant-fail stealth sections.
While Days Gone received some criticism, Ross felt that other established series had weaker first entries in hindsight and that, given a chance, Days Gone 2 could have been a big improvement over its predecessor.
"We have to be able to crawl before you can walk, and walk before you can run," he explained. "I just see that as a trilogy. First games – Batman: Arkham, the first Uncharted – are basic. They are a platform to build on top of for subsequent titles.
He went on to explain how players could swim on the surface in the first Uncharted, then swim underwater in later games, then eventually go scuba diving by Uncharted 4.
"They didn't start with scuba diving, they built towards it," he said. "That applies to every game. Horizon Forbidden West is going to have swimming underwater. It's gonna have all the things that they probably wanted to do in the first game but just ran out of time.
"So you create the minimum viable entry and then hope you get to build the second one. Because you're not arguing over the foundations, you're arguing over the epic new ideas that you're gonna be putting into it."
Ross accused Sony last week of making Bend Studio "feel like [Days Gone] was a big disappointment", despite it selling around 10 million copies to date.
He made the claim on Twitter following Wednesday's announcement that fellow PlayStation exclusive Ghost of Tsushima has now sold 8 million copies.
Ross claimed that Days Gone has actually outsold the much-praised Sucker Punch adventure, despite PlayStation's internal teams allegedly projecting a less positive impression of its performance.
Speaking publicly last year, Ross confirmed that he was at one point working on a Days Gone 2 pitch but, due to an NDA with his former employer, couldn't confirm if it had been cancelled. However, he has since suggested this was indeed the case.