Quantic Dream claims its work on 3 new games is progressing 'serenely'
As Detroit: Become Human clears 6.5 million sales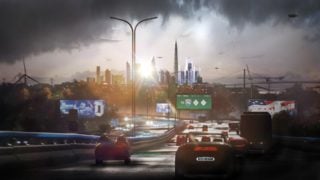 Quantic Dream has claimed that work on three games in development at the studio is progressing "serenely".
The update was delivered as the studio prepares to ramp up development of the titles, which include Star Wars Eclipse, following the opening of a new studio and a significant recruitment drive.
It also follows a recent Xfire report which claimed the company was struggling to attract talent in the face of fierce competition, and in the wake of allegations of a toxic workplace culture, and that as a result Star Wars Eclipse will likely not be released until at least 2027.
Quantic Dream at Work 2022
The company behind Heavy Rain, Beyond: Two Souls and Detroit: Become Human opened a new development studio in Montreal, Canada last year, headed up by industry veteran Stéphane D'Astous.
And in a press release on Wednesday, Quantic Dream said it saw its workforce increase by over 50 percent last year.
The company also reported a third consecutive year of record profits, with net results before tax of more than €5.8 million.
Quantic Dream general manager Guillaume de Fondaumière said its financial results had exceeded expectations because of "robust sales" of back catalogue titles, and in particular Detroit: Become Human.
"This title is now Quantic Dream's biggest commercial success, with over 6.5 million copies sold on PC and PS4 worldwide."
The studio also claimed: "Quantic Dream is serenely carrying on the distinct development of its three in-house productions. Now that the pre-production and prototyping phases have been achieved, 2022 will mark a new progression milestone in the production phases of these three unique titles."
And Quantic Dream production director Sophie Buhl said: "In a constant effort to innovate, we are opening up to new types of games and challenges and we will continue to make a major effort in research and development. This offers great opportunities to those who wish to work on ambitious and innovative projects, within diverse teams that are more and more led by women."