A second 'humour-based' Quantic Dream AAA game is reportedly in development
It's claimed the game is based on the 2013 Dark Sorcerer tech demo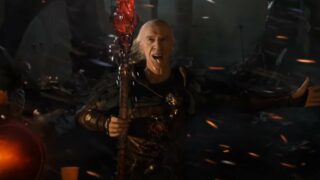 Quantic Dream, the developer behind the recently announced Star Wars Eclipse and Detroit: Become Human, is currently developing a second AAA game alongside Star Wars Eclipse, according to an insider with previous knowledge of Quantic Dream's plans.
Twitter user @AccNgT, who tweeted screenshots of Star Wars Eclipse days before it was officially revealed at The Game Awards, has claimed that another game, this time being developed by the "core Paris team" is underway at Quantic Dream.
The game is reportedly based on "The Dark Sorcerer" which is a tech demo that Quantic Dream produced for the PS4.
In the 12 minute clip, a wizard is seen casting dark magic, before it is revealed that the whole thing is taking place on a film set, and the demo devolves into a comedic sketch. Quantic Dream's Detroit: Become Human also began life as a tech demo titled 'Kara'.
In December it was reported that Star Wars eclipse could be three or four years away.
Tweeting on December 10th, industry insider Tom Henderson, who corroborated the initial reports of the game earlier this year, said: "A few things on #StarWarsEclipse – Being written by QD Paris (David Cage is very much involved)". 
He went on to claim that "Eclipse is believed to be around 3-4 years away minimum" and that "[Quantic Dream] Paris is currently struggling with hiring staff (I wonder why)."
Henderson's "I wonder why" comment likely refers to sexual assault allegations that were levelled at the company in 2019.
A follow-up tweet stated that "The biggest on the dev side is their internal QD engine, which wasn't built for an open-world title. There are currently 60+ job openings for Quantic Dream Paris and 9 in Montreal."
Star Wars Eclipse – Official Cinematic Reveal Trailer
The first trailer shows off impressive visuals including footage of Yoda and the planet of Naboo.
In 2021 Lucasfilm signalled that its Star Wars exclusivity deal with EA was over – or at least coming to an end – by partnering with Ubisoft on a new open-world game.