October 2021's PlayStation Now games have been confirmed, including Last of Us Part 2
Plus Fallout 76, Desperados III, Amnesia: Collection, Final Fantasy VIII Remastered and more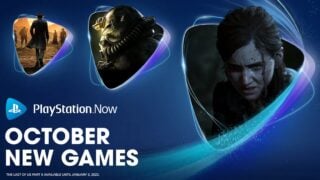 October 2021's PlayStation Now games have officially been announced, including The Last of Us Part 2.
Naughty Dog's game will be available through Sony's subscription service until January 3, 2022, and PS5 players who download it can also download the title's PS5 performance patch.
As leaked over the weekend, October's PlayStation Now additions also include Fallout 76, Desperados III and Final Fantasy 8 Remastered.
In total, seven new games are joining the subscription service from October 5, the others being Amnesia: Collection, Yet Another Zombie Defense and Victor Vran: Overkill Edition.
The Last of Us Part 2 - Enhanced Performance Patch | PS5
Sony slashed PlayStation Now prices in October 2019 in a bid to be more competitive with rival streaming services. It also began adding "blockbuster" games each month, which are only available for a limited time.
In September, PlayStation Now added Tekken 7, Killing Floor 2, Windbound, Pathfinder: Kingmaker – Definitive Edition and Moonlighter.
PlayStation Now's software library includes over 700 PS2, PS3 and PS4 games streamable to PS5, PS4 or PC, and over 300 PS4 titles which can be downloaded and played on consoles.
Sony recently revealed the most-played PlayStation Now games on PC and consoles between March 1 and June 1, 2021.
Bloodborne was the most-played PlayStation Now game on PC (based on global playtime hours) during the three-month period, ahead of Horizon Zero Dawn, The Last of Us, Marvel's Avengers, and Detroit: Become Human.
October 2021's PlayStation Plus games are Hell Let Loose (PS5), Mortal Kombat X (PS4) and PGA Tour 2K21 (PS4). They will be available to download from October 5 until November 1.