The PlayStation Studios website banner has added Death Stranding, leading to acquisition speculation
Sony published Kojima Productions' debut game for PS4 and PS5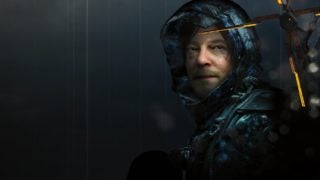 Sony Interactive Entertainment has updated the PlayStation Studios website banner to include Death Stranding, leading to speculation that it may have acquired developer Kojima Productions.
As spotted by a Resetera user, an image of Death Stranding's Sam Bridges has replaced one of Concrete Genie previously included on the banner.
Other changes include the addition of Demon's Souls (Sony acquired the game's developer Bluepoint last year) and updated MLB, Horizon and Gran Turismo images.
UPDATE: Hideo Kojima has since tweeted the image too, before later claiming that the studio will remain independent.
ORIGINAL STORY CONTINUES: Hideo Kojima founded Kojima Productions in 2005, under the control of Konami, where he worked for over 30 years and created the Metal Gear series.
After splitting from Konami in 2015, he reformed Kojima Productions as an independent studio, backed by PlayStation.
The company's first game was Death Stranding, which Sony published for PS4 in 2019 and for PS5 in the form of 2021's Director's Cut. PC versions of the titles were published by 505 Games.
In March, Kojima revealed that the studio was relocating after five years at its Tokyo-based office, although the reason for the move wasn't specified.
Death Stranding Director's Cut PC - Launch Trailer
PlayStation boss Jim Ryan recently confirmed that Sony has more acquisitions planned following a number of recent buyouts.
Over the past year the platform holder has acquired Haven, Bluepoint Games, Housemarque, Nixxes Software and Firesprite.
It was also announced in January that Sony plans to acquire Halo creator Bungie in a deal worth $3.6 billion.
"We're in a really good place with PlayStation Studios and have been for the past few years," Ryan told the latest PlayStation podcast. "The critical success and the commercial success of the games that they've been making… that has given us permission to invest heavily in content creation."
He added: "We're growing our studios organically and we're growing through acquisition. We acquired five studios during the course of 2021, we're in discussions with Bungie and we have more planned. This is getting us into a virtuous cycle where success begets success."