Sony says Horizon has sold 20 million copies ahead of Forbidden West's release
Zero Dawn has also racked up over one billion hours of playtime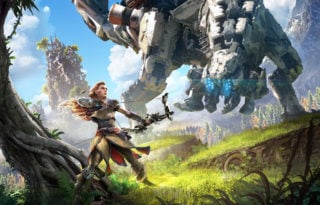 Horizon Zero Dawn has sold over 20 million copies, publisher Sony Interactive Entertainment has claimed.
According to PlayStation Studios boss Hermen Hulst, the game reached the sales milestone in November 2021 from sales of both the PS4 and PC versions of the game.
He also said on Friday that players have spent over one billion hours playing the title, which was developed by Amsterdam-based Guerrilla Games.
Horizon Forbidden West - Cinematic Trailer | PS5, PS4
Horizon Zero Dawn was released for PS4 in February 2017 before making the jump to PC in August 2020.
Former Guerrilla managing director Hulst previously claimed in February 2019 that the title had reached 10 million sales.
The updated sales figure means Horizon Zero Dawn is one of PlayStation's best-selling games ever.
God of War, which released for PS4 in April 2018 and last month for PC, had sold 19.5 million copies as of August 2021, according to the platform holder. Spider-Man for PS4 has also reportedly sold over 20 million units.
Friday's update was delivered one week ahead of the release of the game's sequel, Horizon Forbidden West, on February 18.
Sony announced Horizon Forbidden West for PS5 in June 2020 before confirming a PS4 version three months later. The game has not yet been announced for PC.
This week, Guerrilla released the first footage of the game running on the base PS4, with one clip showing protagonist Aloy fighting a Tremortusk.
Sony also updated the PlayStation Store page for the PS4 version of Horizon Forbidden West to make it clearer that buyers are eligible to a free PS5 upgrade.
Prior to the sequel's announcement, VGC exclusively reported that Sony was planning planning a trilogy of Horizon games.
In January, the company revealed the PlayStation VR2 specs and the hardware's first game, Horizon Call of the Mountain.
The title is being developed by Guerrilla in partnership with new PlayStation studio Firesprite.