The first Horizon Forbidden West PS4 gameplay footage has been released
Check out the game running on PS4 Pro ahead of next month's release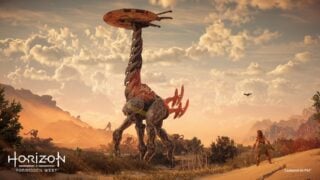 Guerrilla Games has released the first Horizon Forbidden West PS4 gameplay footage, which you can watch below.
The PS4 Pro gameplay clips below were published on Thursday to coincide with the news that the title has gone gold ahead of its February 18 release date.
Guerrilla said last year that Horizon fans shouldn't be worried that the PS4 version of Forbidden West has been compromised by the studio's work on the PS5 one.
Publisher Sony announced Horizon: Forbidden West for PS5 in June 2020 before confirming a PS4 version last September.
While the power of PS5 has enabled Guerrilla to add extra levels of detail to the game on the newer console, in September lead character artist Bastien Ramisse told the PlayStation Blog that the studio is aiming to deliver an equally engrossing experience on both platforms.
"We actually developed and tested the game simultaneously on both PlayStation 4 and PlayStation 5, because it's very important to us as a studio to ensure PlayStation 4 players get an equally immersive experience," he said.
"With our knowledge from Horizon Zero Dawn, we knew that we still had some unexplored resources that could push the realism and quality of our character assets forward; it's great to now be able to tap into that knowledge and experience for the sequel."
He added: "The most noticeable differences and improvements for Aloy in terms of technology is the push of facial and body capture accuracy, allowing more realistic shapes and surface details on characters as well as the careful increase of polygon density to capture handmade and used outfits."
In an interview published last June, Horizon Forbidden West director Mathijs de Jonge also claimed the game hasn't been held back by the weaker of its two target platforms.
Horizon Forbidden West | PS4 Pro gameplay
He told Hardware Zone the studio didn't have to scale back its vision for the project due to PS4 hardware constraints. Aside from 3D audio, quick loading and DualSense support, the main difference between the two versions of the game is on the graphical side of things, he said.
"On the PlayStation 5, we can add so much more detail graphically. We can see the tiny hairs on Aloy's face, for example. You can also see a ton of detail from far away."
Sony recently delayed the Horizon Forbidden West release date to February 2022. It also U-turned on plans not to offer free PS5 upgrades to users who purchase the PS4 standard edition of Horizon Forbidden West.