Capcom is raising its employees' base salaries by 30% in Japan
New bonus system also introduced ahead of expected fifth consecutive year of record profits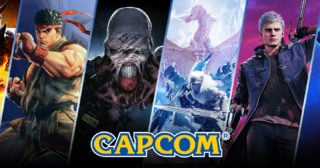 Capcom has announced plans to raise Japanese salaries as part of wider changes to its human resources operations, ahead of an expected fifth consecutive year of record profits.
From the beginning of its 2022 fiscal year on April 1, employees' average base salaries will increase by 30% and a new bonus system more closely tied to the company's business performance will be introduced, it said on Thursday.
The Resident Evil and Monster Hunter publisher will report its fiscal 2021 results in May, when it's expected to announce a ninth consecutive year of operating income growth and its fifth consecutive year of record profits.
Monster Hunter Rise: Sunbreak - The Three Lords Trailer
Capcom also said it will continue to grow its employee performance review and training systems.
The plan to improve staff compensation was announced on Thursday alongside a reorganisation of the company's HR division.
Capcom said it is putting in place a new structure designed to facilitate communication between management and employees, headed up by a chief HR officer, which is a newly established role at the company.
"Driven by its philosophy of being a Creator of Entertainment Culture that Stimulates Your Senses, Capcom will work to address the issues facing our society while aiming improve its corporate value and establishing a relationship of trust with employees and stakeholders," it said.
In its results for the nine months ended in December 2021, Capcom reported the highest net sales and highest levels of all profit items for the end of a third quarter in the company's history.
During its current fiscal year ending March 31, Resident Evil Village has so far topped 5.7 million units, while Monster Hunter Stories 2: Wings of Ruin has sold more than 1.4 million units.
But at 70% of its total unit sales, the company's sales during the nine-month period have been overwhelmingly driven by older games in the Resident Evil and Monster Hunter series.
Saudi Arabia's sovereign wealth fund recently bought a five percent stake in Capcom.