Sega's iconic Tokyo arcades are officially no more
Tokyo game centers were rebranded on Friday, following the sale of Sega's arcade business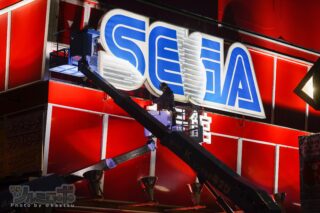 Sega's iconic arcade branding disappeared from Tokyo on Friday, after the company officially ended its 50-year association with Japan's game centers.
Sega's parent company Sega Sammy announced earlier this year that it would sell the remaining 14.9% of its Entertainment division, which runs its game centres across Japan, to rental business Genda Inc.
Genda first purchased 85.1% of Sega Entertainment's shares back in 2020. At the time, Sega Sammy cited uncertainty around the pandemic as the reason it had decided to sell.
Following the sale, Sega Entertainment has been fully renamed to Genda GiGO Entertainment, and all Sega game centres nationwide will now have their Sega branding changed to 'GiGO', starting with Tokyo then the whole country.
As pictured by Genda GiGO chairman Hisashi Kataoka and a Tokyo-based photographer, Sega's iconic branding located in the electronics district of Akihabara was replaced overnight on Friday:
Sega opened the first of its Japanese game centres in the late 1960s, including Joypolis amusement parks and Club Sega arcades. It's estimated that the company had just under 1,000 arcade sites in Japan at its peak in the late 90s.
Although Sega's Entertainment business ran its arcade locations, the company manufactured and sold arcade machines itself separately and will likely continue to do so.
Sega is known for some of the world's most iconic arcade games including OutRun, Virtua Fighter, Daytona USA and more.
Arcades in Japan have reportedly been on a downward trend even before the Pandemic. According to a police white paper, in 2019 there were only 4,022 arcades across Japan, down from 26,573 in 1986.