Japanese retailers take action against PS5 scalpers by 'marking packaging'
One retailer previously said it would write customers' names on sold PS5 consoles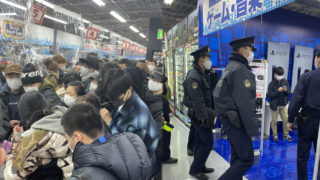 Japanese retailers are getting creative in their battle against PS5 scalpers, with some now taking action by marking or destroying sold consoles' packaging.
Like many other regions, PS5 shortages in Japan have been exacerbated by scalpers reselling large quantities of the console at significant mark-ups. Some in-store restocks have even resulted in the police having to be called.
Last month, Japanese retail chain Nojima Denki implemented a new policy designed to combat re-sellers, which saw it write the buyer's name on the side of PlayStation 5 boxes, as well as destroying the packaging for the controller.
Now, PSU reports that another Japanese electronic chain, GEO, is taking its own action to combat PS5 scalping, by telling customers it will mark the inside of the packaging of every console it sells.
Like most PS5 sales in Japan, GEO is selling PS5s via lottery. The retailer's latest lottery was held on Monday with the notice that the new anti-reselling measure had been implemented and asking customers to agree.
The retailer reportedly informed customers that the PS5 will be opened up and a large cross drawn on the packaging of the DualSense controller, to mark that it's a used console.
Earlier this year a major Japanese retailer responded to chaotic scenes at one of its PS5 restocks by banning sales to suspected scalpers, randomising PS5 sales schedules and allowing only members of its credit card plan to purchase a console.
Yodobashi Camera in Tokyo's Akihabara shopping district had promised to sell several hundred PlayStation 5 consoles via a first-come, first-served policy in February.
However, police were called and the whole process cancelled after hundreds of consumers swamped the store, pushing staff and knocking over cash registers.
Previously, the Akihabara location was one of a few Tokyo stores that did not require a credit account to purchase high-value items, which is thought to have been an influence behind last weekend's chaotic scenes.
PlayStation 5 supply looks set to be even tighter than previously expected over the coming months, after Sony reportedly cut its production plans by around one million consoles.
Sony claimed in July that PS5 had become its fastest selling console ever after topping 10 million sales globally just under a month faster than the PS4 managed. However, it has since fallen behind the sales pace of its predecessor, partly due to supply constraints.