DICE is winding down development on Battlefield 2042's Hazard Zone
The company details future plans for the game ahead of the launch of Season 1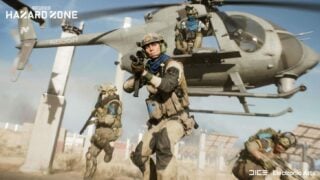 DICE has confirmed that it plans to stop developing new content for Battlefield 2042's Hazard Zone mode.
While it will remain playable and DICE will continue to address any critical issues that arise, future maps and content won't be supported in Hazard Zone.
Introduced to the series when Battlefield 2042 released last November, the PvP and PvE mode sees four-player squads competing to locate downed satellites containing data drives before extracting the intel.
The news was revealed in a new Battlefield 2042 development update video (below) featuring senior producer Ryan McArthur and creative director Lars Gustavsson.
"All of us on the team had great ambition and high hopes for this new Battlefield experience throughout our development, but we're the first to hold our hands up and acknowledge that it hasn't found the right home in Battlefield 2042 and that we'll benefit greatly from letting our focus and energy stay on the modes we see you engaging most with," a DICE community manager said in an accompanying blog post.
"Hazard Zone will stay as part of the experience, we're not switching it off, but beyond addressing critical errors and odd behaviors that may appear in the future, we're no longer actively developing new experiences or content for the mode, and you'll find that maps that we release across our seasons will not be supported in Hazard Zone."
DICE recently confirmed that Battlefield 2042 Season 1 is scheduled to be released in June. It was originally due to arrive in early 2022 but it was delayed to the summer so that the studio could focus on bringing the base game up to scratch following its troubled launch.
In its latest development update, DICE touched on the various ways it's been attempting to improve the core Battlefield 2042 experience and teased what fans can expect in future seasons.
As well as introducing a new map in Season 1, DICE said it's "looking to ensure that where we need to, we're able to bring some of our launch maps up to our revised standard of quality". With this in mind, towards end of Season 1 it plans to introduce an updated version of Kaleidoscope offering more cover, new flag positions, and improved flow across the map.
With the game's most recent update, DICE said it had "unshackled" itself from focusing on Battlefield 2042's 128-player experience.
"128 Players won't be going anywhere, we know it's great for some of our experiences," it said on Tuesday. "For players on Xbox Series X|S, PlayStation 5, and PC, we'll continue to optimize our Conquest experiences around large player counts, but as we've done recently with Breakthrough, we've made the decision to keep this mode as a more tactical experience, better suited to 64 players.
"Conquest experiences will at times feature less Sectors and Capture points as we introduce new content, and update some of our existing content. This is a change that helps us to better control the flow and pacing of combat, making sure that you're spending more time engaging on the flags, and less time checking your phone while you wait for the capture to confirm.
"In Breakthrough, the decision that moves us to 64 players universally, helps us to build more focused frontlines for the engagement, and the reduction in player count ensures that squads which look to work more tactically find more opportunities, and less chaotic resistance in the flanks.
"We're also looking to expand and bring our official modes together to include Rush, our 32 Player focused experience during Season 1."
Electronic Arts CEO Andrew Wilson said this month that the company remains committed to Battlefield 2042 for the long-term.
"This is one of the great franchises of our industry, built by one of the great teams in the industry, and our expectations are it's going to continue to grow and be a really important part of our portfolio for many, many years to come."
In December, EA announced plans to create a "connected Battlefield universe" alongside widespread changes to the franchise's development structure.