Major Assassin's Creed Valhalla update includes Mastery Challenge Pack 2
The Ostara Festival is also returning this month and a new Armory feature is coming in May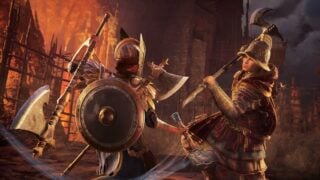 Ubisoft has released a big Assassin's Creed Valhalla update for all platforms.
Weighing in between 1.41 GB and 12.33 GB depending on the platform, update 1.5.1's headline feature is Mastery Challenge Pack 2.
The game's Mastery Challenge mode was introduced in June 2021, adding trials that test melee, stealth and ranged combat skills.
Tuesday's update includes three new shrines and culminates in a boss fight, with rewards on offer including the Valkyrie Armor set, new weapons, a tattoo set, and fresh settlement cosmetics.
In addition to a host of bug fixes, the new update also paves the way for the return of the Ostara Festival, which will run from April 21 until May 12.
All-new weapons will be available to players who complete activities, including egg-hunting and archery challenges in the day and protecting the Raven Clan from spirits during the night. Rewards from last year's Ostara Festival will be made available again too.
Ubisoft has also revealed a new Assassin's Creed Valhalla roadmap, which confirms that game update 1.5.2 will be released in May, as will a new Armory feature.
The Armory is a building which can be built in Ravensthorpe. It lets players store up to five loadouts of weapons, armour and skills which can be freely switched to from anywhere in the world.
Earlier on Tuesday, Microsoft confirmed that additional Ubisoft titles are coming to Xbox Game Pass in the coming months, including Assassin's Creed Origins.
Bloomberg claimed in February that Ubisoft is planning to release a smaller-scale, stealth-focused Assassin's Creed game this year or in 2023.
Codenamed Rift and starring Assassin's Creed Valhalla's Basim, the title was originally planned as an expansion for the most recent series entry before being spun into a standalone game last year, it said.