Assassin's Creed Valhalla: Dawn of Ragnarök gets a 6-minute deep dive trailer
The franchise's "most ambitious expansion" arrives next month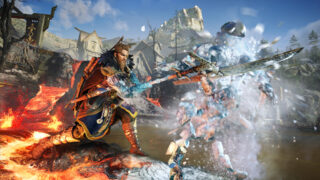 Ubisoft has released a lengthy trailer for Assassin's Creed Valhalla's upcoming Dawn of Ragnarök expansion, which is viewable below.
Set for release on March 10, Assassin's Creed Valhalla's Dawn of Ragnarök DLC sees players take on the role of Odin, who must venture to the mythical dwarven realm of Svartalfheim on a mission to rescue his son from imprisonment.
Odin's aided by new powers, such as the ability to shapeshift into a raven for assassinations and resurrect defeated foes to fight beside him. He can also transform his skin into magma or infuse his weapon with ice.
Dawn of Ragnarök - Deep Dive Trailer - Assassin's Creed Valhalla
Developed by Ubisoft Sofia, the team responsible for Assassin's Creed Rogue and the Curse of the Pharaohs expansion for Assassin's Creed Origins, Dawn of Ragnarök will offer some 35 hours of gameplay, according to Ubisoft.
Earlier this week, Bloomberg claimed that Ubisoft is planning to release a smaller-scale, stealth-focused Assassin's Creed game this year or in 2023.
Codenamed Rift and starring Assassin's Creed Valhalla character Basim, the title was originally planned as an expansion for the most recent series entry before being spun into a standalone game last year, it said.
The game will reportedly be released before the officially announced Assassin's Creed Infinity, which is a collaboration between Ubisoft Quebec (Odyssey) and Ubisoft Montreal (Origins and Valhalla).
It's been claimed that Assassin's Creed Infinity will be a massive online game set across multiple historical periods, which will evolve over time as a live service.