Next week's free Epic Games Store titles have been revealed
City of Brass and Total War: Warhammer will replace Demon's Tilt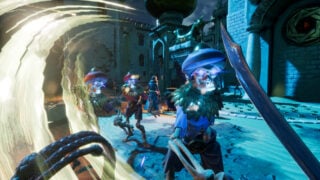 Next week's free Epic Games Store titles have been announced.
City of Brass, which is billed as "a first-person action adventure, inspired by Arabian Nights, from senior BioShock developers," and Creative Assembly's Total War: Warhammer, will be free to download from Epic's marketplace from March 31 until April 7.
They will replace Demon's Tilt, which is now free to download for one week. Normally priced at £15.49, it's a pinball game featuring shoot 'em up and hack n' slash elements.
The Epic Games Store has also launched its Spring Sale, featuring savings of up to 75% on over 560 games.
City of Brass - Available Now!
The Epic Games Store gave away 89 free titles last year (down from 103 in 2020), with a combined worth of $2,120.
According to Epic, users claimed over 765 million free games in 2021. 76 free games broke their peak concurrent user records on PC, with an average of 13 times their all-time records, it claimed in January.
The Epic Game Store's user base reached 194 million in 2021, up from 160 million a year earlier, the company said.
CD Projekt announced a 15-year strategic partnership with Epic Games earlier this week, alongside the news that its next Witcher game will begin "a new saga" for the franchise.
The open-world title is being built with Epic Games' Unreal Engine, rather than its proprietary REDengine, which powered previous Witcher games and Cyberpunk 2077.
"We're happy to announce that the next installment in The Witcher series of video games is currently in development, kicking off a new saga for the franchise," it said.
"This is an exciting moment as we're moving from REDengine to Unreal Engine 5, beginning a multi-year strategic partnership with Epic Games. It covers not only licensing, but technical development of Unreal Engine 5, as well as potential future versions of Unreal Engine, where relevant.
"We'll closely collaborate with Epic Games' developers with the primary goal being to help tailor the engine for open-world experiences."