PlayStation Productions reveals new animation for its films and TV shows
It will play before releases like the Uncharted movie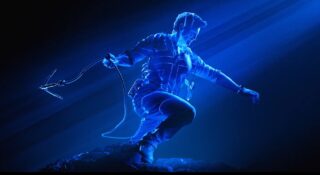 Sony has revealed a new animation that will be used to introduce PlayStation Productions releases, which is viewable below.
PlayStation Productions is a studio formed in 2019 by Sony Interactive Entertainment to adapt its original game properties for film and television in partnership with Sony Pictures.
The new Uncharted movie starring Tom Holland, which had a $120 million budget, is the first major project from the studio to be released.
Like the opening animation used in PlayStation Studios games since 2020, the new animation features characters from the Uncharted, Horizon, The Last of Us, God of War, Ratchet & Clank and LittleBigPlanet series, among others.
PlayStation Productions is headed up by veteran Sony marketeer Asad Qizilbash, who's also head of product for PlayStation Studios.
"We have three objectives," he told the New York Times last year. "Grow audience size for games. Bring product to Sony Pictures. Showcase collaboration."
Uncharted - Official Trailer (HD)
When it was suggested that a cinematic flop could negatively impact the Uncharted game franchise, Qizilbash acknowledged: "It's risky. But I think we can do it."
Following a six-month delay, the Uncharted film launched in 15 markets on February 11 and made a solid start at the box office while receiving middling reviews from critics.
It generated $21.5 million in its opening weekend, putting it ahead of pandemic-era blockbusters like Eternals (up 12%), Black Widow (up 18%) and Shang-Chi and the Legend of the Ten Rings (up 21%) based on how those films performed at similar points in their theatrical lifecycles.
The film will open on February 18 in the US, Canada, Australia, Brazil, France, Germany, Italy, Japan, Mexico and South Korea.
PlayStation Productions is also working on a The Last of Us HBO TV series, a live-action Ghost of Tsushima movie helmed by John Wick director Chad Stahelski, and a Twisted Metal TV series from Deadpool's writers, among other projects.
Earlier today, Netflix announced that it has teamed up with publisher Take-Two to create a BioShock film.