Indigenous platformer Never Alone is a getting a sequel and a Switch port
The game was celebrated for its portrayal of US indigenous culture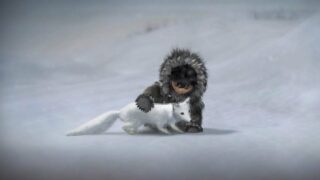 Critically acclaimed puzzle platformer Never Alone is getting a sequel, publisher E-Line Media has confirmed.
The original game, released in 2014, was developed in partnership with the Cook Inlet Tribal Council and told the story of the traditional Iñupiaq tale, Kunuuksaayuka.
The game was praised for the way it faithfully represented indigenous culture, with around 40 Alaska Native elders, storytellers and community members contributing to the game's development.
The sequel, whose working title is simply Never Alone 2, has entered pre-production and is provisionally scheduled for release in 2024.
According to E-Line, the sequel will once again be developed in collaboration with the Cook Inlet Tribal Council, and will "share more treasured Iñupiaq stories with the world".
Never Alone: Arctic Collection - trailer
Before then, both the original game and its Foxtales DLC expansion will be coming to Switch on February 24.
Never Alone: Arctic Collection will include both the game and the DLC, as well as all the documentary videos that were included as part of the original release.
"The story of Never Alone continues to grow with its launch on Nintendo Switch and through other promising partnerships", said Amy Freeden, executive vice president and CFO of the Cook Inlet Tribal Council.
"Cook Inlet Tribal Council is excited to continue its partnership with E-Line Media and bring new voice to Our People's stories through pathways that have true impact."
E-Line president Alan Gershenfeld added: "Working with the Cook Inlet Tribal Council and the broader Alaska Native community has been a truly inspiring experience for the E-Line team and we are excited to bring the Never Alone Arctic Collection to the Nintendo Switch, an ideal platform for the game's culturally rich co-op gameplay.
"We are also pleased to announce that we've begun pre-production on a sequel to Never Alone, building upon the same inclusive development partnership for sharing and celebrating Alaska Native culture and storytelling with a global audience."