Fortnite is getting Wu-Tang Clan outfits and items
The hip hop legends' Wu Wear clothing line will appear in the game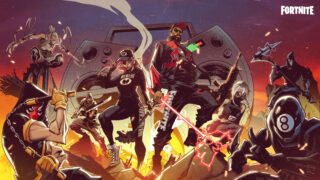 Epic Games has announced that its latest Fortnite crossover is with legendary hip-hop group, the Wu-Tang Clan.
Starting on Saturday April 23 at 8pm ET (Sunday April 24 at 1am GMT), a number of items related to the group's Wu Wear fashion line will be available in the item shop.
While this will naturally include outfits, it also includes back blings, pickaxes and other items.
Real-life versions of the outfits available in the game will also be sold by Wu Wear.
The two outfits are the Throwback BG Outfit, which comes with the Wu Wear Worldwide Back Bling, and the B.R.I.T.E. Outfit, which comes with the Wi-Tang Represent Back Bling.
Both the Back Blings are reactive to in-game music, and will pulse to the beat.
As well as the outfits, players can also get the Neck Protector Pickaxe, which also creates an effect when it hits, and the Triumphant Tagger Pickaxe, which creates a trail of paint when swung.
Players will also be able to obtain a Shimmy Surfer Glider, Wu Wrap and a 'Wu-Tang is Forever' emote, in which the player holds up both hands to form a 'W'.
The outfits and other items can be bought separately or in two bundles. The Wu Wear Bundle includes both outfits, both Back Blings, a Wu-Tang Hands emoticon and a Wu-Tang loading screen.
The Wu Wear Gear Bundle, however, includes both pickaxes, the Shimmy Surfer Glider, Wu Wrap and Wu-Tang is Forever Emote, as well as the Wu Boom Box Spray and a Wu-Tang Clan banner.