'Fortnite without forts is way less fun' – Comments of the Week
We round up the correspondence VGC has received this past week
Chris Scullion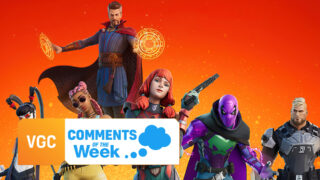 This is a blog post, where VGC writers post irreverent and (occasionally) entertaining coverage of video game culture.
We spend all week writing words for you, our dear readers, so it's only fair that we read the words you write back at us.
Comments of the Week is our weekly round-up in which we look at our favourite:
Comments posted in our
Replies to our tweets
Messages in the VGC Discord server (join us!)
Comments on our YouTube videos
To qualify for Comments of the Week, a comment doesn't have to necessarily be amusing (though it certainly helps its chances). It can be a good point, an interesting observation or, on occasion, something so ridiculous it has to be called out.
It should go without saying, but if you want to have a chance of being featured in Comments of the Week in the future then be sure to comment on our articles, reply to our tweets, comment on our YouTube videos and join our Discord server. We'll take it from there.
Here's what made the cut this week.
---
Comments of the week
"After 16 days, 190 hours and 100% in Elden Ring I´m happy with a short and simple game if it hits 8h+.
"Have to wait till it hits Gamepass, but hope people will have fun with it on PS5."
A measured summary there, Fabidini, and we can relate to being happy with a game that doesn't try to be another endless epic.
---
"Anyone who has been to Tokyo knows how much of an impact this will be. It was iconic to go to Akihabara and see the giant Sega multi-story arcade. I guess the other shoe to drop will be if Sega actually gets out of designing and manufacturing arcade machines themselves."
Well, hopefully it doesn't come to that, Sky7.
---
"See you in two months."
How cynical, Mohammad S.O! But yup, maybe.
---
"The cars can be expensive and be attainable by winning races… like they have been in all the past games without micro transactions. The line that Sony is putting out is just pure garbage. You can have both and make it sane.
"The fact is if microtransactions were not possible they would never craft the game this way. That is the whole problem with microtransactions. It caused fully paid for $70 games to be made broken on purpose to generate more income.
"Every micro transaction for anything but cosmetics, and in some ways even for cosmetics, should be boycotted in a paid for game. They have ruined the industry in many ways, and have never once made a game better."
It certainly does appear to have backfired, JWrenn, showing that it's always possible to push things too far no matter what the company is.
---
"I absolutely hate not being able to build or launchpad and there are no mats to farm so hitting weak points for XP is pointless
"Fortnite without forts??? Wtf?? Fortnite is absolutely dog crap now and way less fun.
"Who developed this crap? Joe Biden?"
Big Popper. We were with you until the end there, where did that come from?
---
"This is great. The first movie genuinely caught me off guard in how good it was (best video game movie imo). It was a genuinely great family movie that respected and built on it's source rather than pay half assed lip service."
Definitely looks like another winner, Caffeine Rage. Fingers crossed.
---
"You all make such a quality video game journalism website/YouTube channel, and I'm wondering where in the world you came from. I saw that you're partnered with the UK's "Gamer Network" like Eurogamer and Rock Paper Shotgun, and the standard of quality suddenly made a lot of sense! I don't understand why us Yanks struggle so much to make more decent sites like yours, but I'm loving your content, regardless!"
Look, considering the amount of abuse video game sites get, you'll forgive us for including MachFiveFalcon's YouTube comment here, because it made our week.
---
Tweets of the week
To be fair, we literally set that up for you with a Watch Dogs screenshot.
---
We would happily accept another game like God Hand. The campaign begins now.
---
Well, it isn't. So you're welcome.
---
Come on, you can't really go with the "Gran Turismo 7 is realistic because fancy racing cars cost a lot of money to buy in real life too" argument. In real life a Ferrari doesn't stay spotless when you slam it into a wall at 160mph, so let's not pick and choose here.
---
At the rate it's going, before it's released, the original announcement might actually become old enough to go to college.
---
Too soon. And finally, to end on a classy note…
---
Right.