Horizon Forbidden West's Clawstrider is appearing in locations around the world
The statues will remain in place in 15 cities for the next few days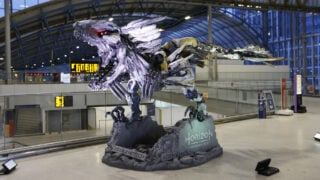 Sony has been placing Clawstriders from Horizon Forbidden West at key locations around the world.
The 15 statues have been put on display to celebrate the release of Horizon Forbidden West, and will remain on display until February 24.
The Clawstrider is a new combat machine that appears in Forbidden West, and resembles a feathered dinosaur.
It's one of a number of mountable machines that Aloy can ride during the game.
Horizon Forbidden West - the VGC review
The full list of locations where the Clawstriders can be found is:
UAE – Dubai
Australia – Sydney, Royal Botanical Gardens
Russia – Moscow, Depo FoodMall
South Korea – Seoul, The Lotte World Tower
Poland – Warsaw, Palace of Culture & Science
Spain – Madrid, Callao Square
USA – NYC, Times Square
USA – San Francisco, Embarcadero
Canada – Toronto
UK – London, Waterloo Station
France – Paris, Gare Saint-Lazare
Mexico – Mexico City, Telcel Theatre
Brazil – Sao Paulo, Avenida Paulisto
Argentina – Buenos Aires, Planetario Galileo Galilei
Chile – Santiago, Parque Araucano
Horizon Forbidden West was released on February 18, following a delay (the game was originally scheduled to release in 2021).
It's available for both PS4 and PS5, with last-gen owners able to upgrade to the new-gen version for free.
VGC's Horizon Forbidden West review called it "a stunning sequel" that "improves on its predecessor in every way".
"When it comes to sequels that are significantly better than the original, a game that often comes to mind is Assassin's Creed 2," wrote VGC critic Jordan Middler.
"The jump from the first Assassin's Creed to its sequel perfectly represents what a studio can do once it's found its feet with the first instalment of a franchise – expanding on what worked, listening to what its players didn't like, and taking advantage of not having to learn to walk at the same time.
"While Horizon Forbidden West just falls short of replacing Assassin's Creed 2 in this analogy, it gets very close. With better combat, a compelling story and a jaw-droppingly beautiful world, it's an improvement on the original in every way, even if it does hold on to a few open-world tropes that we could have left behind."