Elden Ring gets a new cinematic story trailer
The new cinematic is narrated by the game's storyteller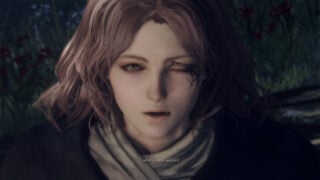 Bandai Namco and From Software have released a new cinematic trailer for Elden Ring.
The new trailer explains more of the game's backstory and reconfirms the game's February 25 release date.
The trailer follows last month's release of a lengthy gameplay video.
The 19-minute gameplay preview vid offers "a brief introduction to Elden Ring's fundamentals" and aims to convey some of the title's mood and gameplay.
Elden Ring - story trailer
The Elden Ring release date was recently delayed by one month to February 25, 2022.
Explaining the delay, publisher Bandai Namco claimed "the depth and strategic freedom of the game exceeded initial expectations".
Elden Ring takes place in a world called the Lands Between, which was created in collaboration with Game of Thrones author George R. R. Martin, who was tasked with creating the game's lore.
Bandai Namco detailed Elden Ring's performance modes last month, and confirmed ray-tracing support on new-gen consoles and PC.
PS4 Pro, PS5, Xbox Series S and X versions of the From Software title will ship with 'Performance' and 'Resolution' modes, while ray-tracing will be added to PS5, Series X and PC via an update (though it's not clear if this will be in time for release).
As with most new-gen titles, Performance priority mode will adjust screen resolution and load balance to approach 60 FPS, Bandai Namco said.
Resolution priority mode will load balance functions at a fixed max resolution, with a lower limit of 30 FPS. "There are differences in the display of grass and other ground objects depending on the console," the publisher said.