PlayStation will publish a new multiplayer IP from Destiny veterans
Firewalk Studios staff also "helped bring to life franchises like Mass Effect and Apex Legends"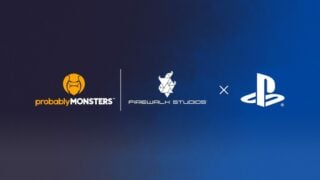 Sony Interactive Entertainment (SIE) is to publish a new AAA PlayStation console exclusive from Firewalk Studios, a company founded in 2018 by former Bungie veterans.
The original IP will be the first game from the Firewalk, which was established by studio head Tony Hsu (formerly GM and senior VP of Destiny at Activision), game director Ryan Ellis (previously creative director at Bungie) and executive producer Elena Siegman (previously of Bungie, Irrational Games and Harmonix).
Hsu told the PlayStation Blog that the studio has "carefully assembled an amazing and diverse team of best-in-class talent" which also previously "helped bring to life franchises like Mass Effect and Apex Legends".
No further details about Firewalk's new multiplayer game were revealed.
In a newly published Nikkei interview, SIE boss Jim Ryan said Sony has been "quietly but steadily" investing in the creation of first-party software and that PS5 will be home to more exclusive games than any previous PlayStation console.
SIE announced in March that it was funding an original IP from another AAA start-up studio established by former Stadia games boss Jade Raymond, and PlayStation Studios boss Herman Hulst has now told GamesIndsutry.biz that he's "very interested" in creating a diverse slate of titles.
"I think that the games that we make are as distinct and diverse as they can be," he said. "From Sackboy to Astro Bot to Dreams to these kind of games that you're referring to, like The Last of Us Part 2 and Ghosts of Tsushima. And you can bet that we will carry on making these games, because they are the heart and soul of what we do here at PlayStation studios.
"But at the same time, we are just as committed to making these quality experiences as we are to experimentation and to coming up with fresh ideas."
Hulst added: "The lovely folks that we are talking to today at Firewalk Studios, they're story tellers just like the people at PlayStation Studios are. They are story tellers in a very innovative way. Matched with their deep experience as a collective in AAA multiplayer games, I think that is going to lead to some very interesting and very nice surprises for our fans."