Skull & Bones has been rated in South Korea, suggesting a release is finally near
Ubisoft's game has been in development for nearly a decade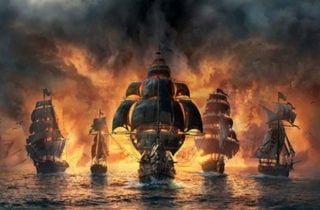 Ubisoft's frequently delayed Skull & Bones has been rated in South Korea, suggesting it's finally reaching the end of its long development cycle.
As discovered by VGC reader @the_marmolade, a rating for the PC version of the game was added to South Korea's the Game Rating and Administration Committee website on Thursday, which implies development has either reached or neared its conclusion.
Initial development on the naval pirate adventure started in 2013. The game was first revealed by Ubisoft at E3 2017, with a release date set for the end of 2018.
It was then delayed to 2019, then March 2020, then the fiscal year ending March 2022, then the fiscal year ending March 2023.
The game has finally been showing signs of nearing completion, though, most notably via a leaked Skull & Bones video last month which provides an overview of what players can expect.
According to the six-minute video, the game is set in a world inspired by the Indian Ocean during the golden age of piracy.
Players begin their journey as an underdog whose goal is to become the most infamous pirate to sail the seas.
They start off with a small dhow (trading vessel), but as they progress and their Infamy level rises, they can craft bigger and stronger ships with unique playstyles.
Earlier this week, Ubisoft said the long-delayed game will be released during the second half of its current fiscal year ending on March 31, 2023, and it recently said that the title is now "multiplayer first".
CFO Frédérick Duguet provided an update on the project's new direction during an earnings call in February, following a reboot of the naval battle game in 2020 which was first revealed in an exclusive VGC report.
Skull & Bones - E3 2017 trailer
"It's a very promising new IP focusing on multiplayer first, so very consistent with our strategy to bring multiplayer competition and co-op first in a big open world, with a great, attractive fantasy," he said.
"That's of course a longer development time that we've had on that game, but we're very happy with the artistic direction and the progress of the game so far."
In March, Ubisoft put out a call for Skull & Bones testers. "We are kicking off our Insider Program, a unique opportunity for a selected few to test early versions of Skull and Bones & share feedback," it said.